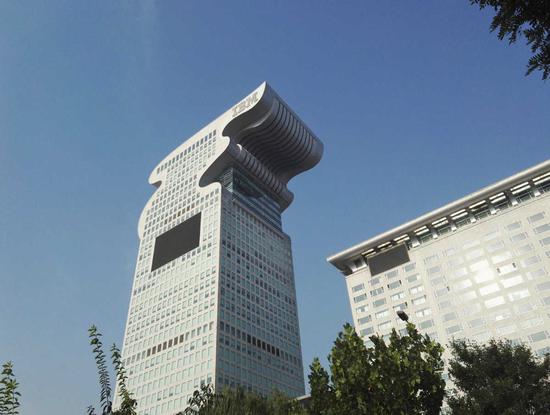 No 5 building of Pangu Plaza (left) in Beijing on Monday. LIU HONGSHENG/FOR CHINA DAILY
The auction of a prominent dragon-shaped building in Pangu Plaza in Beijing began with a starting price of more than 5.18 billion yuan ($734 million) on Monday.
The auction, organized by the Beijing No 3 Intermediate People's Court, is for the 44-story No 5 building of the plaza near the National Stadium-also known as the Bird's Nest-on the capital's north-south axis in Chaoyang district. It will end at 10 am on Tuesday.
Since the court put the building-related information on e-commerce platform Taobao in July, the auction has been viewed about 120,000 times.
But as of press time, just two people have registered to participate in the bidding.
According to the auction rules disclosed by the court, every participant should pay 1 billion yuan as a security deposit, and the price will increase by 5 million yuan each time another participant joins.
The court will announce the deal if at least one registered participant offers a higher bid than the starting price, the rule added.
To help the public understand the auction target, the court posted several pictures of the 140,000 square-meter building on the platform and also left phone numbers to answer people's related questions.
The court launched the auction because the building was named as a mortgaged property of a civil dispute, in which Beijing Zenith Holdings Co and Beijing Pangu Investment failed to pay debts owed to the Beijing branch of the Bank of Shanghai.
It was not the first auction related to the plaza, but the previous ones failed with no bidder.
Beijing Pangu Investment and Beijing Zenith Holdings were controlled by Guo Wengui, a Chinese billionaire who fled China in August 2014 after being accused of multiple crimes, including corruption. He is subject to an Interpol red notice, an international arrest warrant.
To prevent judicial corruption and improve judicial transparency, Chinese courts began holding online auctions in 2012. As of June 30 last year, more than 168,400 items, including houses and cars, had been sold via the judicial auction platform, amounting to about 378 billion yuan.