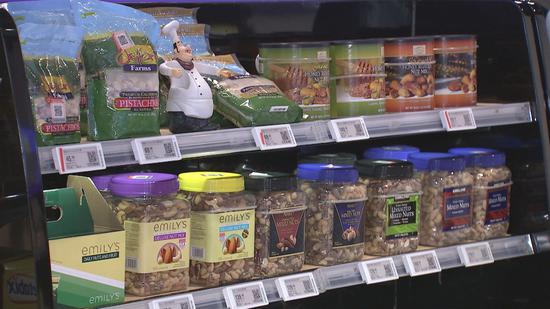 Imported goods have become a big part of Chinese people's daily life. [CGTN Photo]
The latest developments in the China-U.S. trade saga have once again cast doubt on global economic growth. But as the world's largest developing country, China aims to introduce more quality imports to boost consumption as people's demand for quality life grows.
With a slew of online platforms and faster logistical services, Chinese consumers have more options than ever. Shi Jian, who bought some milk powder for his cousin, told CGTN that in terms of milk powder and other products for babies, he and his family prefer some imported brands with good quality. He often double checks them in stores before buying online.
As a saying goes, diamonds are a girl's best friend. Such is the case for 24-year-old Qian Xialing, who is looking for her first diamond after two years' work with a public relations firm based in Shanghai.
Qian told CGTN that a high-quality and beautifully-designed item is more like an affirmation, some encouragement, as well as a reward for herself. It will also boost her life quality and confidence.
China's generation Z, those born between the mid-1990s and mid-2000s, has become a driving force of the consumer spending currently fueling the economy.
James Macdonald, senior director of Savills Property Services (Shanghai) Company, said they are also influencing the types of brands which serve generation Z which will continue to grow in the coming years. So it is an indication about where consumption is going to go.
With more disposable income, Chinese families are more optimistic about their future and more confident about spending. I can still remember the crowded, and bustling China International Import Expo (CIIE) held at the National Exhibition and Convention Center in Shanghai last November.
Sun Chenghai, deputy director of the CIIE Bureau, said they have expanded the pavilion area from 270,000 square meters to 300,000 square meters this year. More high-end consumer goods, products and services for China's aging society are among the highlights.
According to the National Bureau of Statistics, the total retail sales for consumer goods in China reached nearly 9.8 trillion yuan in the first quarter of 2019. That's just over 1.4 trillion U.S. dollars with a year-on-year increase of 8.3 percent. Compared to trade and investment, consumption is expected to further fuel China's economic growth.