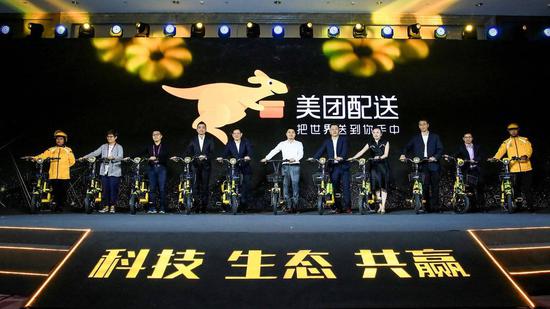 Chinese on-demand service platform Meituan launches a new delivery brand - Meituan Delivery - on April 6. (Photo provided to chinadaily.com.cn)
Chinese on-demand service platform Meituan launched a new delivery brand on Monday as part of its broader efforts to boost overall delivery efficiency.
The latest brand, namely Meituan Delivery, will open its delivery platform, including the technology platform, delivery network and value chain, to partners within its ecosystem.
"The extension and opening of Meituan's delivery network will help establish a more flexible delivery platform," said Wang Puzhong, senior vice-president of Meituan and president of the at-home business group at Meituan.
With the platform, Wang added that Meituan aims to offer a more customized platform for different industries and meanwhile bolster its own delivery infrastructure and dispatch.
Meituan, whose businesses span food delivery, hotel bookings, travel, entertainment ticketing and ride-sharing, made its debut on the Hong Kong Stock Exchange.
According to its fiscal report ending Dec 31, 2018, the company earned 65.23 billion yuan ($9.6 billion) last year, an increase of 92.3 percent year-on-year.