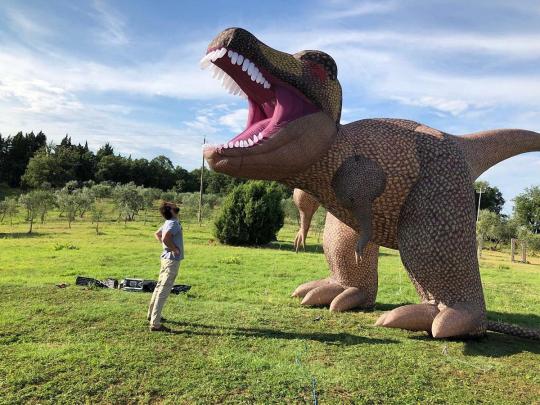 An Italian customer looks up at an inflatable dinosaur he bought at AliExpress, a Chinese business-to-customer site. He received the delivery within five days after he placed the order. (NIU JING/FOR CHINA DAILY)
Black Friday, a shopping extravaganza on the Western retail calendar, has become an occasion for Chinese brands to shine, as overseas buyers are increasingly embracing cross-border e-commerce channels for quality made-in-China products.
Average per-customer transactions doubled during the promotional day on Nov 23 via AliExpress, a Chinese business-to-customer site that exports to over 220 economies, the company said on Tuesday, without disclosing sales figures.
Also enjoying twofold growth was the transaction volume from the United States and a number of developed economies across Europe. They accounted for more than 90 percent of overall revenue generated during the holiday season, said Wang Mingqiang, general manager of AliExpress, a subsidiary of e-commerce giant Alibaba.
"Mid-to-high-end products from China are replacing budgeted items like toys, lighters and other daily necessities, which reflects the changing mindset of the global audience toward Chinese exports," Wang told a media briefing.
Big-ticket items, including consumer electronics, furniture, automobiles and smart devices are among major categories that saw transaction volume triple compared with the same time last year, according to AliExpress figures.
Spain, home to more than 7.7 million registered users of AliExpress, has exhibited a particular passion for Xiaomi Corp's digital gadgets, from smartphones and watches to set-top boxes. Meanwhile, Poland, where purchases of electronic toothbrushes expanded by 20 times during the event, became AliExpress' fastest-growing market with over 50 percent market growth.
"In their respective sub categories, our exports generally fall into the mid-to-high-end price range, breaking the stereotype that Chinese products are synonymous with just being affordable," Wang said.
ILIFE, a Chinese robot vacuum cleaner maker, priced its iconic lineup between $150 to $300, a range that put the company in a medium-to-premium league, said Zha Yafei, the company's overseas market director.
"Sales jumped 2.1 times during this year's Black Friday promotion, thanks in part to consumer insights provided by Alibaba to help us identify unique market needs and adjust our portfolio accordingly," she said.
Also at play is an entire suite of cross-border e-commerce solutions, from logistics to digital payment, since many countries still lack the infrastructure crucial to the widespread adoption of cross-border e-commerce, Wang noted.
To shorten the delivery period, AliExpress teamed up with Cainiao Logistics by organizing daily chartered flights in key European destinations, and allowed for the global traceability of parcel shipment movement. It also extended digital customs solutions to Russian postal services and helped the agency to speed up the clearance process.
The evolving export pattern indicates China is substantially moving up the value chain in global trade, said Wei Hao, head of the department of international trade and economics at Beijing Normal University.
"Improved product quality and dynamic sales and distribution channels are contributing to the enhanced profit margin per unit for export," he noted.