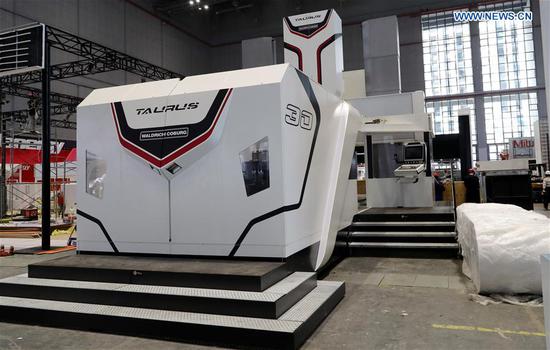 A Taurus milling machine from German Waldrich Coburg is adjusted at the National Exhibition and Convention Center in Shanghai, east China, on Oct. 30, 2018. (Xinhua/Fang Zhe)
Special: China's First Import Expo
The ongoing China International Import Expo (CIIE) in Shanghai is not only introducing companies from all over the world to potential buyers, but also strengthening worldwide consensus on championing free trade and economic globalization.
If there were just one must-see exhibit at the expo, a 200-tonne German milling machine stretching some 200 square meters would be a natural choice, as it is the largest product on display.
The colossus from Waldrich Coburg, a German machine tool maker, has won extensive media coverage ever since the shipping from Germany to China began. This came as a bit of a surprise for Sven Grosch, in charge of public relations at Waldrich Coburg's holding company -- Jingcheng Holding Europe GmbH.
"It is only our smallest size," Grosch said. But the benefits of the close media attention are clear: This machine has already attracted at least two potential buyers as of Tuesday.
Scheduled to run from Monday to Saturday, the CIIE is the world's first import-themed national-level expo, attracting more than 3,600 companies from different countries and regions, and welcoming over 400,000 Chinese and foreign buyers.
"[The expo] demonstrates China's consistent position of supporting the multilateral trading system and promoting free trade. It is a concrete action by China to advance an open world economy and support economic globalization," President Xi Jinping said Monday in a keynote speech at the opening ceremony of the event.
Xi also announced that China will work toward greater openness in the agricultural, mining and manufacturing sectors.
"This will give greater market opportunities to high-end equipment manufacturers like Waldrich Coburg," Grosch said.
His views were shared by Maximilian Foerst, president and managing director of ZEISS Greater China.
"At the expo, ZEISS will seize the new opportunities presented by China's efforts to further open up," Foerst said, vowing to "build more extensive partnerships that enable customers to win and take advantage of the transformation of economic momentum."
In just two hours on Tuesday morning, ZEISS had made three deals with a combined value of more than 30 million yuan (4.3 million U.S. dollars), the company said.
The expo has made ZEISS even more determined to explore the Chinese market and accompany local partners toward success, the company said in a note.
"In a world of deepening economic globalization, practices of the law of the jungle and winner-takes-all only represent a dead-end. Inclusive growth for all is surely the right way forward," Xi said.
People with vision in the world would agree that economic globalization, as an irreversible trend of history, has greatly boosted global growth, Xi added.
Just like what the president said, the support for globalization has become an important consensus among exhibitors, business leaders and experts attending the expo.
"Refusing globalization is like refusing the law of gravity," Jean-Paul Agon, chairman and CEO of L'Oreal, said at a forum on the sidelines of the CIIE, adding that China's staunch support of free trade and economic globalization is very important to the world.
L'Oreal has brought more than 20 brands to the expo, said Samuel du Retail, general manager of the consumer products division of L'Oreal China.
"We are bringing things to China, and China is also giving things back to us. It's not about bargaining, but mutually beneficial exchanges," Retail said.
The purpose of trade is not just to make money, but to bring benefits to as many people as possible, said Long Guoqiang, deputy head of the Development Research Center of the State Council.
"To benefit more people, protectionist measures must be abandoned," Long said.
Global trade drives growth for businesses and economies, helps reduce poverty, improves productivity and multiplies market opportunities, said Caroline Wu, current managing director of Damco Greater China, and future managing director of Maersk Greater China Area starting in 2019.
"We support the initiatives to promote global and regional free trade and the removal of trade barriers. We expect to see bilateral and multilateral trade agreements be strengthened during the CIIE, which may create potential opportunities for Maersk as well," Wu said.
The CIIE, which will be held on an annual basis in the years to come, will continuously serve as evidence of China's support for globalization and willingness to share growth opportunities with the world.