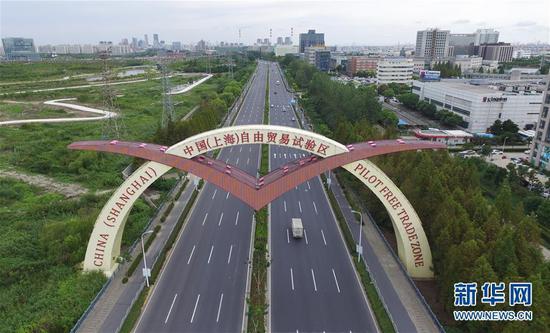 The entrance of China (Shanghai) Pilot Free Trade Zone in Shanghai. (File photo /Xinhua)
(ECNS) - China's major economic powerhouse Shanghai has introduced the country's first negative list for service trade in the city's Pilot Free Trade Zone (FTZ) as part of management innovation.
Wu Qing, deputy mayor of Shanghai, said the move explores the management of cross-border service trade and is greatly significant in aligning the zone with international standards.
The list details 159 particular administration measures for 31 industries in 13 categories. It was introduced after a thorough review of current laws and regulations.
China started to pilot free trade zones in 2013 in Shanghai to test new ways of managing foreign investment, trade facilitation, and transformation of government functions to better integrate the economy with international practices.
Among the country's 11 pilot FTZs, Shanghai is also the first to pilot a negative list for foreign investment, which means all sectors are open to foreign investors except for those listed.
Shanghai will also introduce further measures to promote opening up and build itself into an international stronghold of service trade, Wu said.