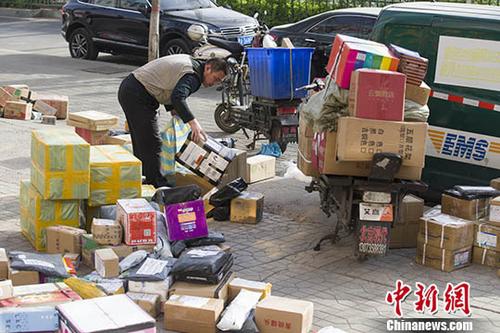 A courier collects packages. (File photo/China News Service)
(ECNS) -- China's booming express delivery industry has ranked first in the world four years in a row and contributed to half of the sector's global growth, said Ma Junsheng, head of the State Post Bureau.
In a speech to mark the 49th World Post Day on Tuesday, Ma said the stable and rapid growth of China's express delivery industry offers solutions to the sector's transformation in the world.
The turnover of postal services, mainly postal and express delivery services, totaled 976.4 billion yuan ($141.1 billion) in 2017, up 32.0 percent over the previous year, and more than 40 billion express packages were delivered in the year, which accounted for 45 percent of the world's total.
The postal industry is a vital part of modern logistics and contributes to the transformation of the consumer economy, Ma said.
Ma also said that more efforts will be made to fulfill the universal service obligation, ensure that direct postal services are available at remote villages, and promote poverty alleviation through a mechanism that combines "delivery + rural e-commerce + agricultural special products + farmers."
In a message for World Post Day, Bishar Abdirahman Hussein, director general of the UPU International Bureau, said the post promotes social inclusion by striving to ensure that all citizens have access to its communication services, including people living in remote places, on isolated islands, and in disaster-prone areas.