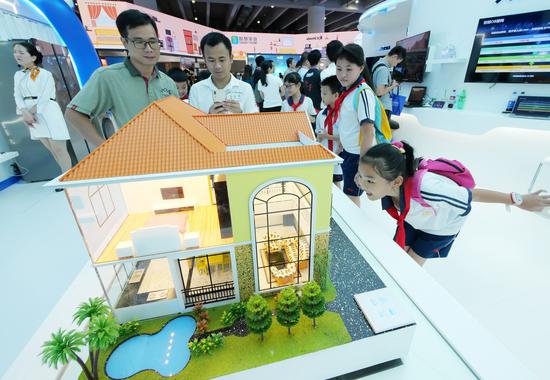 Visitors look at a model of a smart home at an industry expo in Guangzhou, capital of Guangdong Province. (Photo provided to China Daily)
More financial support for big data, artificial intelligence in the pipeline
China will boost the development of the digital economy as part of efforts to stabilize employment, according to a guideline issued by the nation's top economic regulator.
The central government will promote the digital transformation of traditional sectors, with more workers switching their jobs to emerging sectors, according to the National Development and Reform Commission on Wednesday.
The authorities will step up financial support to boost the development of the digital economy, such as big data and artificial intelligence, and give more policy support to encourage private equity and venture capital funds to make investment in related industries, according to the guideline.
Earlier this month, the commission and China Development Bank unveiled plans to drive 100 billion yuan ($14.55 billion) of investment in the next five years into big data, the internet of things and cloud computing, with priority given to the incubation and support of a series of key projects.
The government's great emphasis on stabilizing employment through developing the digital economy comes at the time amid concerns over the economic outlook and job market as intensified tariff threats from the United States may lead to job losses at companies that rely highly on exports, especially in sectors with the most immediate exposure to the latest round of US tariffs.
The US government announced an additional tariff to Chinese imports valued at $200 billion on Monday, and China retaliated by imposing penalties on $60 billion worth of US imports.
The Asian Development Bank said on Wednesday that China's economy is expected to grow by 6.6 percent this year and then slow to 6.3 percent in 2019.
"There should be more efforts to create new jobs through industrial transformation to tackle challenges brought by trade conflicts," said Wang Yang, an economist with the NDRC's research institute.
"More targeted measures are needed to help the laid-off find new jobs through providing professional training and helping them find new jobs in other sectors."
NDRC official Ha Zengyou said at a news conference earlier this year that the government would definitely not allow large-scale job losses to occur.
The overall scale of China's digital economy reached 27.2 trillion yuan by the end of 2017, accounting for 32.9 percent of total GDP.
Total employment in the digital economy reached 171 million by the end of last year, accounting for 22.1 percent of overall employment during the period, according to the China Academy of Information and Communications Technology.