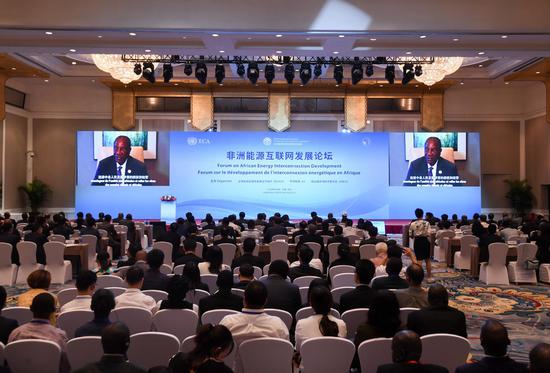 A view of the Forum on African Energy Interconnection Development in Beijing on Sept 4. (Photo/Xinhua)
Special: Forum on China Africa Cooperation 2018
An alliance for building stronger China-African ties and pursuing win-win cooperation in the energy sector through an integrated African grid was proposed in Beijing on Tuesday.
The strategic platform - the African Energy Interconnection Sustainable Development Alliance - was proposed by the Republic of Guinea and the Beijing-based Global Energy Interconnection Development and Cooperation Organization, or GEIDCO.
"To promote the sustainable development of Africa, it is crucial to take energy as the core issue, give full play to the advantage of rich resources and promote clean development and energy transition," Liu Zhenya, chairman of GEIDCO, said at the African Energy Interconnection Development Forum.
Liu called on all parties concerned to put more efforts into African energy interconnectivity, a project whose aim is to form a massive electricity grid on the continent powered by renewable sources.
The project will provide a strategic solution for accelerating the sustainable development in Africa, Liu said.
Alpha Conde, president of Guinea, said that while Africa is rich in natural resources, making full use of them for sustainable development is a major problem facing many countries, including Guinea.
The construction of an interconnected African grid will help promote the use of clean energy, connect local electrical grids and accelerate the development of mineral resources and deep processing industries, he said in a video presented at the forum.
The forum is a major event of the 2018 Beijing Summit of the Forum on China-Africa Cooperation. It was organized by GEIDCO, the African Union Commission and the United Nations Economic Commission for Africa (UNECA). More than 400 participants attended the event.
At the forum, GEIDCO released a new report - African Energy Interconnection Planning Research. It analyzes the opportunities and challenges of sustainable development in Africa, and provides a set of solutions to connect energy resources.
According to the report, the construction of backbone grids in Africa can be carried out in three stages. It is estimated the ambitious project will cost $2.9 trillion by 2050, of which the investment in clean energy would account for 86.9 percent.
Zhou Xiaofei, deputy secretary-general of China's National Development and Reform Commission, said many African countries have seen great changes in industrialization and agricultural modernization thanks to Chinese investment and technology sharing.
In the future, China and Africa will join hands in deepening cooperation and explore more opportunities in the energy sector, he said.