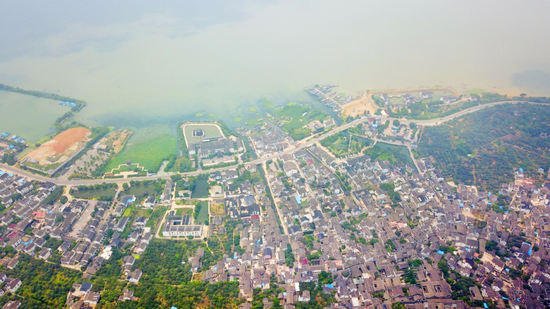 Aerial photo taken on June 11, 2018 shows a scenery of the Taihu Lake in Suzhou city, East China's Jiangsu Province. (Photo/Xinhua)
Special: Yangtze River Economy
After farming crabs in Suzhou, Jiangsu Province, for about a decade, Shen Xingcai is quitting the environmentally unfriendly business to run a residential inn near popular Taihu Lake.
"I have farmed 1 hectare of hairy crabs in the eastern part of Taihu Lake," Shen said. "Like many of the villagers in Jinting township, I've signed a contract with the local government to stop. Government workers told us that the food we put into the water to feed the crabs pollutes the water. Crabs eating the weeds also damage the environment."
Hairy crabs, a seasonal delicacy, are farmed in 3,000 hectares of Taihu Lake, China's third-largest freshwater lake, but Suzhou's city government has ordered the removal of all the nets and tools used by the crab farmers by the end of this year.
"With 500,000 yuan ($73,110) compensation from the government, I plan to run a residential inn in our hometown, which I believe will attract more tourists and be better for the environment," Shen said.
The Yangtze, China's longest river, was named for Yangzi township in Yangzhou, Jiangsu, during the Sui Dynasty (581-618). It runs through the southern part of Jiangsu to the East China Sea.
Jiangsu attracted 385.82 million tourists in the first half of this year, up 9.5 percent year-on-year, according to the provincial tourism bureau.
The province's 13 cities are listed as excellent tourism locations in China. Some of them, including Nanjing, Wuxi and Yangzhou, are also making great strides in protecting the rich natural and cultural resources along the Yangtze River.
"One of the biggest advantages of Jiangsu's tourism is its convenient transportation," said Liu Jiao, a visitor from Zaozhuang, Shandong Province. "It takes about 15 minutes from one city to another along the Shanghai-Nanjing high-speed railway.
"Taking a boat on the rivers and lakes of Jiangsu, tasting its fish and shrimp and visiting those ancient riverside houses interests many visitors, including me. I never thought I would like the moist air and crooked rivers so much."