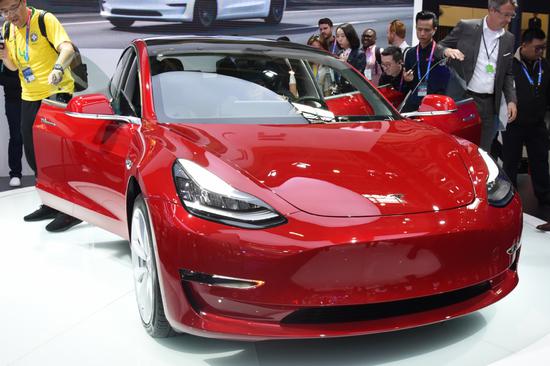 A Tesla Model 3 sedan is displayed during an auto expo in Beijing. (Photo provided to China Daily)
U.S. electric carmaker Tesla Inc is planning to build its wholly-owned plant in Shanghai mainly with local debt, with construction expected to start within the next few quarters, the company said in its second-quarter earnings statement released on Thursday (Beijing time).
On the conference call following the release of the statement, CEO Elon Musk said: "For China I think our default plan will be to use essentially a loan from local banks in China." But he added that initial investment in the plant with an annual capacity of 500,000 cars will not start in any significant way until 2019.
The capital expenditure cost of the Shanghai plant, its first to be built outside of the United States, is estimated to be at around $2 billion, said Musk.
Tesla is also mulling a plant in Europe.
If successful, the local debt plan will greatly ease Tesla's financial pressure, according to analysts. Tesla ended the second quarter with $2.78 billion in cash, posting a $743 million loss, although Musk insisted that the carmaker was expected to make a profit this year as it would ramp up production of its Model 3 sedans.
Tesla reached the deal in July with the Shanghai government to build a car plant in the city, which is the first foreign-owned car manufacturing facility in China following the central government's relaxation of its policy for foreign carmakers earlier this year.
"We are excited about this opportunity, as China is by far the largest electric car market in the world and Chinese support for electric vehicles has been exceptionally strong," said Musk.
The plant's initial capacity is expected to be around 250,000 vehicles and battery packs per year, and will grow to 500,000, with the first cars expected to roll off the production line in about three years, according to the carmaker.
The plant will produce the smaller and cheaper Model 3 sedan and the upcoming Model Y crossover but not more expensive Model S sedans or Model X SUVs in China.
Vehicles produced at the Shanghai plant will augment its existing capacity in order to meet growing local demand, said the company.
China is one of Tesla's most important markets, where it sold 17,030 cars last year, accounting for 16.5 percent of its global sales, according to statistics from the China Passenger Car Association.
The carmaker's China sales this year are under some pressure as it has raised the costs of its cars sold in the country due to China's retaliatory move following the U.S.' extra tariff imposed on Chinese goods.
"As a result, we had to adjust pricing in China in order to partially offset this increased cost. This will likely have some negative impact on our volumes in China in the near term," the carmaker said in the earnings statement.
But it said global sales will not be heavily impacted since "we will partially divert deliveries to North America and Europe if necessary".