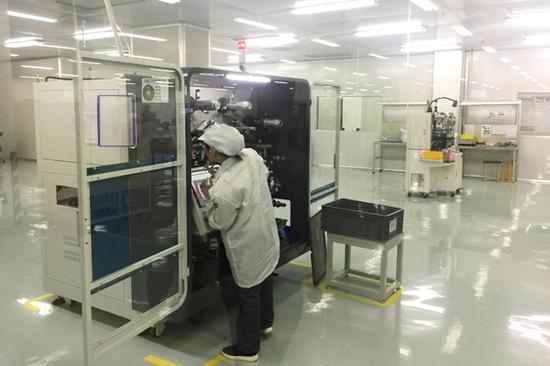 The equipment in the workshop of Zhonghui Automobile comes from Taiwan. (Photo provided to chinadaily.com.cn)
Taiwan businesses will be allowed to obtain franchised rights to invest in infrastructure projects in Guangdong province, according to a new regulation.
The regulation, issued by the local Taiwan affairs office and the development and reform committee on Thursday, indicates that Taiwan investment will be franchised in the sectors of energy, transportation, water resource, environmental protection, urban public projects.
"They will be allowed to invest in such sectors, receiving rights as equally as their business counterparts on the Chinese mainland," said Chen Linzuo, deputy director of the Taiwan Affairs Office of the Guangdong Provincial People's Government.
According to the regulation, a total of 48 favorable policies will be issued to Taiwan-invested companies and compatriots making and living businesses in Guangdong, a major base for Taiwan investment in the last four decades.
"Taiwan enterprises are encouraged to invest more in technology research and development. We will support them in digitalization, and smart and green development," said Chen.
The favorable policies cover areas such as property, finance and taxation, housing, employment, education, culture, medical care and film industry.
"The policies are aimed at enhancing social and economic cooperation between Guangdong and Taiwan," said Chen.