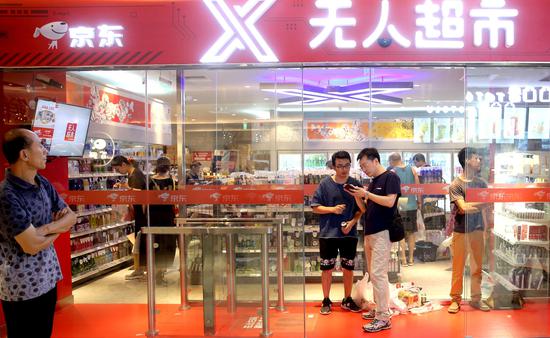 Shoppers at an unmanned supermarket of JD in Beijing. (Photo by Wang Jing/China Daily)
Chinese e-commerce giant JD and U.S. tech giant Google Inc announced on Monday that Google will invest $550 million in cash in JD, as part of a strategic partnership.
The two companies plan to collaborate on a range of strategic initiatives, including the joint development of retail solutions in a number of regions around the world, including Southeast Asia, the United States and Europe.
Under the agreements, Google will receive more than 27 million newly issued JD Class-A ordinary shares at an issue price of $20.29 per share, equivalent to $40.58 per American depository share, based on the volume-weighted average trading price over the prior 10 trading days.
By applying JD's supply chain and logistics expertise and Google's technological strength, the partners aim to explore the creation of next-generation retail infrastructure solutions, with the goal of offering more helpful, personalized and frictionless shopping experiences.
Moreover, JD plans to make a selection of high-quality products available for sale through Google Shopping, a dedicated shopping search engine from Google in multiple regions.
"This partnership with Google opens up a broad range of possibilities to offer a superior retail experience to consumers throughout the world," said Liao Jianwen, chief strategy officer of JD.
"This marks an important step in the process of modernizing global retail. As we celebrate our June 18 anniversary sale, this partnership opens a new chapter in our history," Liao said.
The Chinese e-commerce company competes aggressively with Alibaba Group Holding Ltd in China's massive e-commerce market. Both companies are investing heavily in automated warehouse technology, retail and logistics to win over consumers.
"The cooperation is highly complementary, and Google could help JD expand its presence in overseas markets," said James Yan, research director at market research company Counterpoint, adding that Google also aspires to seek a strong partner in China, and JD offers great expertise in logistics and delivery services.
According to Google, the Asia-Pacific region is one of the largest and fastest-growing e-commerce marketplaces in the world, with consumers in Southeast Asia alone expected to spend $88.1 billion online by 2025.