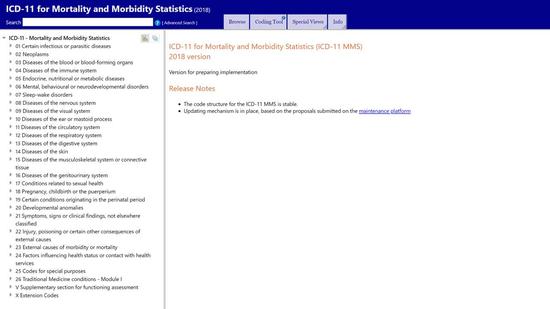 An online version of the ICD-11 can be accessed for free on WHO's website. /Screenshot from WHO
Do you find yourself spending more time playing video games and unable to stop easily? If yes, maybe you should start to worry because you might be addicted to gaming, which is now a mental disorder.
Gaming disorder has officially been classified as a mental health condition for the first time by the World Health Organization (WHO), according to the 11th edition of the International Classification of Diseases (ICD-11) released on Monday.
First listed in ICD-11's draft last December, gaming disorder is defined by WHO as "a pattern of persistent or recurrent gaming behavior ('digital gaming' or 'video-gaming'), which may be online (i.e., over the Internet) or offline."
The designation by WHO could prompt insurance companies to cover gaming-related mental issues, which may encourage gamers to seek for help from therapists.
"It's going to untie our hands in terms of treatment, in that we'll be able to treat patients and get reimbursed," Dr. Petros Levounis, the chairman of the psychiatry department at Rutgers New Jersey Medical School, told The New York Times, adding that therapists won't have to call it depression or anxiety for patients to get covered by their insurance anymore.
Most of us are just gaming
Gaming activity is not equal to gaming disorder, WHO says on its feature webpage for the disease.
The disorder affects "only a small proportion of people who engage in digital- or video-gaming activities," the feature page says.
But if gaming is completely taking over your life, you should be alarmed.
WHO says a person has to be showing very specific symptoms for as long as a year to be diagnosed with this disorder.
The symptoms include uncontrollable gaming activities, putting gaming in front of anything else in life and continuing gaming activities even if there are serious consequences.
Gaming addiction has yet to be recognized as a mental disorder in China.
Chinese gamers' reactions
Gaming is very popular in China. More than 583 million Chinese participate in some kind of video gaming, with 57 percent of the market occupied by mobile games.
Some Chinese gamers made fun of the WHO inclusion, calling each other "psychopaths."
"I can finally become a psycho," gamer Skyray joked on China's social media platform Weibo.
"So we are all mental now. We should treat each other good in the psychiatric hospital," another gamer replied.
"Can I call in for leave since I'm a mental disordered person?" read a reply under CCTV's report on Weibo.
"Should I sue Tencent for making me addicted?" an ifeng.com reader from China's Ningbo City said.
There are also more serious comments, worrying about different kinds of social problems the new inclusion may lead to.
"Now those esports pros should really feel pressure, because the winners are sportsmen, and losers psychopaths," Weibo user "oran_cc" said.
"What about phone addiction? They are not just playing games," another user replied.
"Film star fans are often called crazy. Do they have any kind of mental disorder?" Weibo user "Shirley" asked.
"Now no one could arrest Dr. Yang?" one comment said, referring to the controversial Chinese doctor Yang Yongxin, who set up a camp in Shandong Province that looks like a rehab center. Yang was alleged to have been using an electric chair to force teenagers out of gaming addiction.