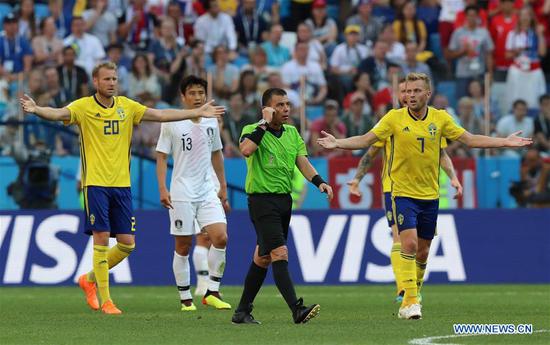 Referee (C) communicates with Video Assistant Referee (VAR) during a group F match between Sweden and South Korea at the 2018 FIFA World Cup in Nizhny Novgorod, Russia, June 18, 2018. Sweden won 1-0. (Xinhua/Yang Lei)
Special: WorldCup2018
A penalty awarded after referee applying to VAR helped Sweden defeat South Korea 1-0 in their opening World Cup Group F match at Nizhny Novgorod Stadium on Monday.
This had been a crucial and must-win match for both teams, as South Korea vowed to satisfy domestic fans who were disappointed by team's winless performance in 2014, and Sweden would want their first opening game win of the World Cup since 1958.
South Korea dominated the game for the first 10 minutes before Sweden, who have been absent for World Cup stage for 12 years, took control.
The Swedes created an excellent opportunity in the first fruitless 45 minutes, when Marcus Berg's shot was denied by South Korean goal keeper Jo Hyeonwoo's marvelous movement plus a bit luck.
After switching sides, South Korea's spearhead Son Heungmin, who initially played as left-winger, produced an 80-meter drive all the way into the opponents' penalty area, but his cross was stopped by Swedish captain Andreas Granqvist.
Viktor Claesson was tripped by Kim Minwoo in the box, but the game went on with no whistle. Under the pressure of the Scandinavian spectators and constant protests of the Swedish players, the referee decided to apply to the reviewing system, and awarded a penalty kick to the Swedes. Granqvist took the spot kick and gave his team the winner in the 65th minute.
"Mexico beating Germany yesterday made the group even tougher for us, it was fantastic to be winner of this important match", said Granqvist at the post-game press conference.
"We could have started the first ten minutes better, we created a couple of opportunities and got a penalty awarded, then we were just fighting till the end," the captain added, pointing out his team is now focusing on the game with Germany.
Despite the fact that his team got a match-deciding penalty eventually, Swedish coach Janne Andersson still questioned the referee's initial judgement. "I think the case was crystal clear, the VAR was not even needed. With the position the referee had, he could have given the penalty straight away," Andersson said.
"We really wanted to win, that's the attitude our players had coming into this game. If we won today's game, it would be better and easier for us to fight against Mexico and Germany," said South Korean coach Shin Taeyong.
Shin admitted that the penalty was a good call, just wishing his player could have done better.
Speaking of the next game, Shin said, "Yesterday Mexico played very well, we know they are going to be a formidable opponent, and we will prepare well."
Sweden will play reigning champions Germany on June 23, and South Korea are to battle with Mexico the same day.