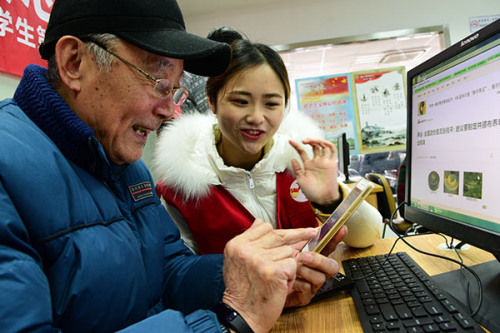 A volunteer helps a senior citizen surf the internet in Zhenjiang, Jiangsu Province. (Photo by Shi Yucheng/for China Daily)
The internet is no longer the exclusive domain of young Chinese as a growing number of middle-aged and elderly people in the country are embracing technology and becoming more proficient in using social media, a new industry report said on Monday.
More than 98 percent of the middle-aged and elderly people covered in the study, who are largely people aged over 50, use social media applications like WeChat and over 80 percent of them can upload photos and video, send messages and keep in touch with friends and family using the various functions, according to a report released by Tencent Holdings Ltd and the Chinese Academy of Social Sciences.
Such data could prove to be sweet music for Chinese internet companies that are looking to expand their services and business to a wider cross-section of the society.
Data from the China Internet Network Information Center showed that middle-aged and elderly people account for 10.4 percent of the total internet population in the country last year, up 9.4 percent from the level in 2016.
"For senior citizens, economic status, social status and physiological characteristics are important factors. But now, internet has also become an equally important factor," said Chen Guangjin, head of the Institute of Sociology at CASS.
According to the report, middle-aged and elderly people are gradually learning new functions on mobile phones.
Nearly 59.3 percent of them use handsets to watch videos while 25 percent and 20 percent of them can make digital albums and WeChat emoticons, which are used frequently by the younger generation.
"The internet is able to help everyone get a variety of information regardless of gender, age or physical condition. It will bring benefits to senior citizens also," said Cheng Wu, vice-president of Tencent.
"In reality, the gap in living conditions has resulted in different levels of engagement in the internet. Companies should look at shortening the distance between elderly people and the internet to enable them to live a better digital life," he added.
In terms of detailed content, most of the elderly population prefer to read articles that are positive, humorous and offer encouragement, followed by those related to politics and healthcare.
However, the report also suggests that some middle-aged and elderly people have never used mobile devices for payment purposes since some of them think that mobile payment is not very safe and not easy to operate.