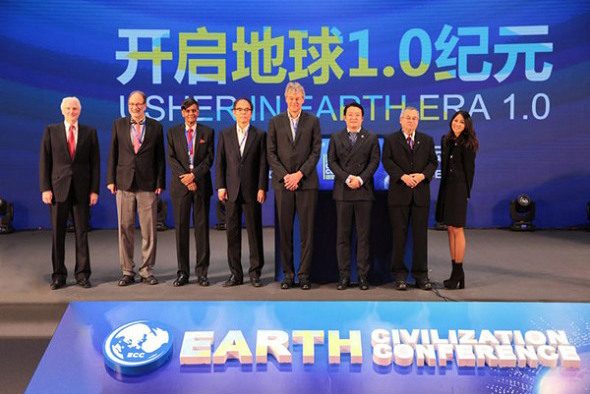 The Earth Civilization Conference attracted world-class experts to the Xiamen International Convention Center in Xiamen, Fujian province on Jan. 23, 2017. (Photo provided to chinadaily.com.cn)
A two-day international event, the Earth Civilization Conference, initiated by China's urban development group JC was held in Xiamen, Fujian province, on Tuesday.
The conference aimed at better integration of human civilization and attracted Nobel laureates, leading scientists as well as other researchers and experts from both home and abroad to the Xiamen International Convention Center to share their experiences and studies related to all aspects of people's daily lives.
"The event is organized to promote the formation of a stronger civilization and enhance the development of humanity," Jay Wei, founder of JC Group, said at the conference.
During the conference, JC also launched the Earth Civil Foundation to provide financial support to scientific research programs led by leading researchers.
Founded in 2008, JC Group has signed agreements with 59 distinctive towns across the country, involving 570 billion yuan ($87.23 billion) in government investment to promote eco-friendly urbanization.
The company announced on Tuesday a plan to provide initial funding of 100 billion yuan to research over the next two years, covering key areas such as physics, chemistry, biomedical, economy, digitalization and artificial intelligence. The research results will be widely applied in 59 distinctive towns.
"The establishment of Earth Civilization Conference will provide a strong impetus to the development of 'distinctive towns', in return, the sustainable development of 'distinctive towns' will also accelerate the integration and development of human civilizations," Wei said.