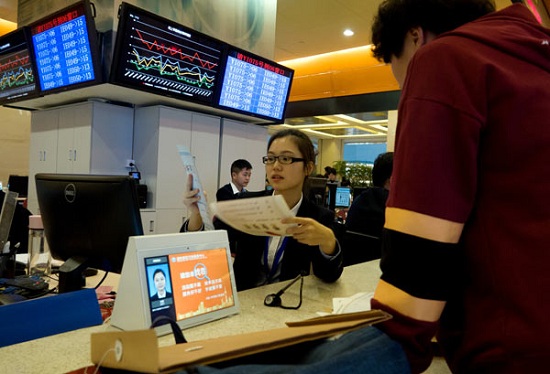 A business owner applies for a license at the Government Affairs Center of the Free Trade Zone of Pudong New District, Shanghai, on Nov 28. (Photo by Gao Erqiang/China Daily)
The State Council has decided to ease regulations for enterprises investing in free trade zones (FTZs) and open more business areas for foreign capital, a notice on its official website said on Tuesday.
According to the decisions endorsed by Premier Li Keqiang, China will allow wholly foreign-owned entertainment venues to provide services in FTZs and permit foreign investors to invest in Internet access businesses.
The country will remove the restriction that at least 70 percent of equipment in foreign-funded urban-rail traffic projects should be made in China.
Wholly foreign-owned companies were allowed to open gas stations and to design, produce and repair aircraft with a maximum takeoff weight of 6 tons.
Investment proportions limitations on helicopters with a takeoff weight of at least 3 tons were also lifted.
Foreign investors were also allowed to be controlling shareholders in International shipping agencies.
The total 16 policy changes will apply to all FTZs in China, though among them, nine items were already applied in FTZs in Shanghai, Guangdong, Tianjin and Fujian.
China's FTZs, which have expanded from the first in Shanghai to the current 11 across the country, are a way of testing new policies, including interest rate liberalization and fewer investment restrictions, to better integrate the economy with international practices.
A statement released after the Central Economic Work Conference last month said that China will expand free trade zone pilot areas and guide foreign investors to operate in the country in an efficient way.
According to the statement, the country will push for nationwide implementation of a pre-establishment national treatment system as well as a negative list which determines where foreign participation is prohibited or limited. And it said that the negative list will become shorter and shorter.
Data from the Ministry of Commerce showed that in the first 11 months of 2017, the newly approved foreign-invested enterprises in China amounted to 30,815, up 26.5 percent year-on-year, and the actual use of foreign investment reached 803.62 billion yuan, increased by 9.8 percent.