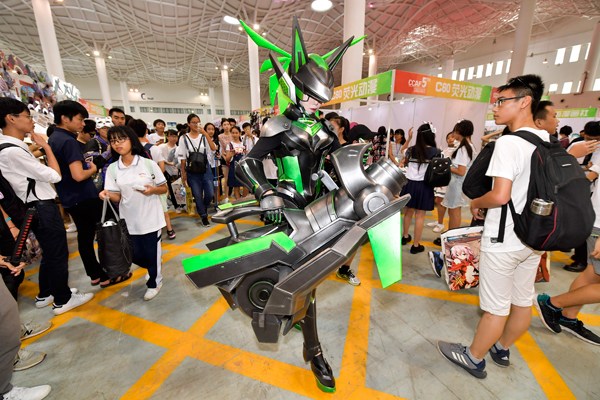 A cosplay fan dressed in armor appears at the 2017 ChinaJoy Cosplay & Animation Festival (Hainan) in Haikou, capital of Hainan province, on Oct 1, 2017. (Photo/China News Service)
The business of mobile games continues to grow strongly in China, according to a recent industry report.
Tencent, China's top games publisher, owner of WeChat and backer of startups, said in a report its revenue from games reached 18.2 billion yuan ($2.8 billion) in the third quarter of 2017, up 84 percent year-on-year.
The report said that the level of revenue growth is expected to continue not only because of King of Glory, Tencent's game that became a big hit in 2017, but other games that Tencent was authorized to operate, such as Passion Leads Army.
NetEase, another mobile game maker, also reported positive results in the third quarter with its net income from online games growing to 8.1 billion yuan, up 23.5 percent year-on-year, despite a 1 billion yuan drop from the previous quarter, as the popularity of its killer game Onmyoji lost momentum in 2017.
However, in November 2017, one month after its launch, the shooting game Knives Out made by NetEase beat King of Glory and climbed to the top place in the free games category on the Chinese app store. And Minecraft, the game NetEase was authorized to run, helped the company gain 30 million new users in the third quarter of 2017.
Ding Lei, CEO of NetEase, said although the growth from Onmyoji was slowing, its performance in the overseas market remained stable.
Ding said the company would keep experimenting with different genres and types of products to harness more potential from the domestic market.
The CNG Games Research Center, a Beijing-based mobile games research institution, reported that the number of paying users of games and anime reached 80 million in 2016, while 300 million people were involved in related activities.
Full-year figures are not yet available, but the market for mobile games is expected to reach 16 billion yuan for 2017.
Yuan Jun, general manager of the intellectual property development center of Shengda Game Ltd Co, another Chinese mobile games firm, said users of anime and games display three features.
Yuan said: "They are usually loyal consumers; they don't easily quit on the things they like before they own them; and they are very willing to pay.
"If the industry digs deeper into what such consumers like and what they are willing to spend on, it would be able to keep the fans.
"The development of anime and mobile games is a cultural phenomenon. The games sector has surpassed the TV industry in average income, and the anime culture will go the same direction."
He said the mobile games segment has spent years communicating with users to improve products and the years to come will see more product launches.