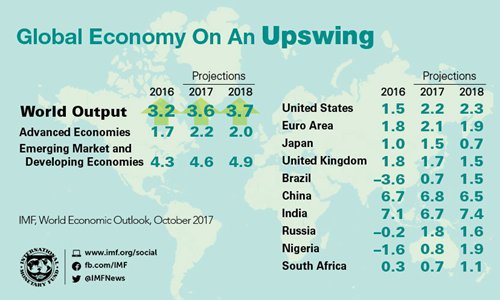 (Photo/IMF)
IMF raises China's 2017 GDP forecast to 6.8% as country enjoys healthy growth
China's economy has enjoyed moderate and stable development in the past five years, contributing the largest to global economic growth, as its structure has been optimized and new growth engines have emerged, an official said on Tuesday.
China's economy has "maintained medium to high growth," Ning Jizhe, head of China's National Bureau of Statistics (NBS), said at a press briefing hosted by the State Council, China's cabinet, in Beijing on Tuesday.
Such economic achievements since the 18th National Congress of the Communist Party of China in 2012 highlights the Chinese government's shift from faster to quality growth, which helped the country overcome global economic uncertainties and achieve a domestic economic new normal, experts said.
From 2013 to 2016, China had an average GDP growth rate of 7.2 percent, far higher than the global average of 2.6 percent and 4 percent of developing economies, NBS data shows. China's strong GDP growth has allowed the country to contribute an average of 30 percent to the global economy in the past five years, ranking first in the world, Ning said.
The International Monetary Fund on Tuesday expects the Chinese economy to grow by 6.8 percent this year and 6.5 percent next year, both 0.1 of a percentage point higher than its previous forecast in July.
"The Chinese economy's biggest achievement in the last five years has been a new governing philosophy, which prioritizes quality over speed," Tian Yun, director of the Macroeconomics Research Center's China Society, told the Global Times.
"Prior to 2012, China had led the world in terms of GDP growth at an unprecedented rate of above 10 percent … but such a growth model has created problems, such as environmental damage and financial risks," Tian said.
Bai Ming, a research fellow at the Chinese Academy of International Trade and Economic Cooperation, agrees. "The emphasis on quality has led to a domestic economy upgrade and largely strengthened its competitiveness. As a result, we can see the ongoing optimization of the economic structure, with the emergence of new growth engines," Bai said.
For example, the services sector has become an economic pillar. In 2016, the additional value of the tertiary industry represented 51.6 percent of China's GDP, up 6.3 percentage points from 2012, NBS data shows.
And China's manufacturing PMI, a main gauge of industrial activity, stood at 52.4 in September, its highest level since May 2012 - a sign of improving industrial performance.
"Under the Made in China 2025 initiative, the high-end manufacturing and high-tech sectors are also powering the domestic economy," Tian said.
He cited the smartphone sector, where domestic brands such as Huawei and Vivo are eating into the market share of traditional tech giants such as Apple and Samsung.
Ning also highlighted a number of technological breakthroughs - high-speed rail, quantum communications, human spaceflight and supercomputers. The emerging economic engines are expected to replace traditional ones in the next few years.
Challenges ahead
Against the backdrop of a sluggish global economy, economic achievements since 2012 are "meaningful and remarkable," Bai said. He pointed out that the US overtook China as the world's largest trading nation last year due to the rise of trade protectionism following the global economic meltdown.
Tian also cited China's economic new normal phenomenon, which has partly led to the country's excess capacity as well as vanishing advantage in manufacturing.
Reforms under the new governing logic, such as cutting overcapacity, have helped the country successfully deal with those difficulties, but they will remain for at least the next five years, experts stressed, urging the government to handle them in a "stable and proper" way.
"China is still cultivating new growth engines, and the government must control ballooning production inputs at this critical time - land and human costs as well as taxes - for the country to smoothly move forward," Bai suggested.
Experts warned of other potential problems. For example, regulators should be mindful of mounting local government debt.