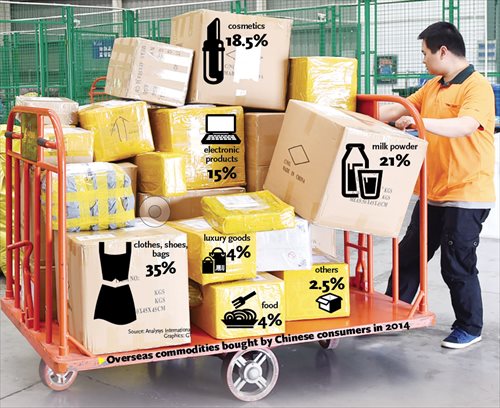 Overseas buying agents abandon purchasing role for mainland shoppers as import duties bite
The determination of China's customs authorities to step up scrutiny of individual overseas parcels is dealing a heavy blow to the country's private daigou (people who help consumers from the Chinese mainland secure overseas products), said analysts.
"On September 18, we started to strictly enforce the provisions on individual overseas parcels," while previously, some authorities may not have strictly followed the regulations, an official at the Suzhou Customs office told the Global Times on Wednesday via telephone.
Similar actions were taken by customs authorities around the country after the State Council, the nation's cabinet, held a videoconference on September 17, "ordering us to strictly follow the rules laid down by the General Administration of Customs in 2010," the official said on condition of anonymity.
He noted that individual overseas purchases, especially of baby milk powder and cosmetics, of more than 1,000 yuan ($157.5) may get returned as a result of the crackdown on daigou.
Analysts said that the State Council's order indicated the central government's resolve to promote the sound development of cross-border e-commerce, which is regarded as a major new driver of economic growth.
"It is important for customs authorities to knock out daigou, who can sometimes bring cheaper and better-quality goods to customers but are also a channel for the sales of fake goods," Liu Dingding, an analyst from Beijing-based Internet intelligence agency Sootoo, told the Global Times on Wednesday.
China's daigou business has been booming in recent years as domestic consumers' demand for cheaper overseas goods rose and their confidence sank in locally produced goods, especially maternal and child products, after the tainted milk scandal in 2008. That scandal led to the deaths of at least six infants and left kidney problems in thousands of others, according to the Xinhua News Agency in 2009.
A report by US-based market consultancy Bain & Co in January said that the daigou business in China's luxury industry had an estimated market value of 55 billion yuan to 75 billion yuan in 2014, equivalent to 50 percent of store sales in China of these items.
The trade via private daigou will plummet as daigou cannot easily evade taxes as they used to amid stricter customs inspections, said Liu.
Xu Yun, a daigou based in Southwest China's Chongqing Municipality, has already felt the impact.
"My two cosmetics parcels from the UK were held up by Chongqing Customs in September and October. I paid nearly half of the costs as duties to get them back," she told the Global Times on Wednesday. Xu, who started her overseas purchasing and reselling business in June, said she would abandon the business.
Guangzhou has also begun tougher examinations, said another daigou surnamed Xia, noting that nine of her 10 international parcels were held up by Guangzhou Customs in the past two months.
"It's not wrong to have to pay import duties, but I hope that customs management will be consistent. We have no idea if customs authorities will tighten their controls for a while and loosen them in the next moment," Xia told the Global Times on Wednesday.
Xia said that she had previously stopped selling overseas cosmetics to avoid the risk of paying high import duties. Milk powder products are also off her shopping list, for the same reason.
Milk powder products comprise the second-largest category of overseas goods purchased by Chinese customers online, Beijing-based market research firm Analysys International said in July.
The incomes of domestic daigou will also take a hit in the face of competition from the country's big-name e-commerce giants such as Alibaba Group Holding and JD.com Inc, which are actively expanding their cross-border online shopping business, according to Liu.