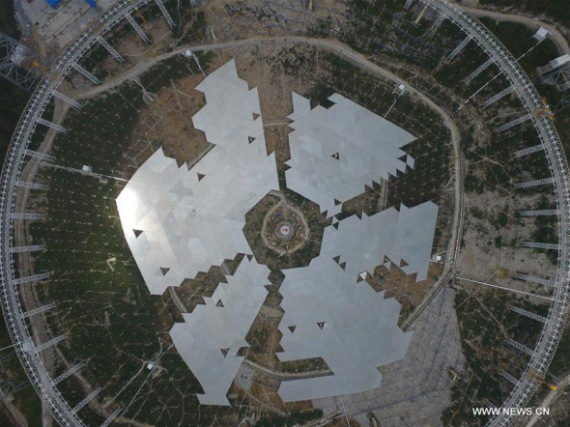 The feed cabin supporting system of China's single-aperture spherical telescope "FAST" is under test in Qiannan of southwest China's Guizhou Province, Nov. 21, 2015. (Photo: Xinhua/Jin Liwang)
5. FAST: EARTH'S "EAR" PRICKED TO SOUND FROM UNIVERSE
A hollow that formed 45 million years ago with the collapse of a karst cave in southwest China's Guizhou Province is now home to the world's largest radio telescope. Scientists say it will become a big sensitive "ear," listening to subtle sounds from distant universes and decoding cosmic messages.
With an investment of 1.2 billion yuan (182 million U.S. dollars), China's largest ever astronautics project began in March 2011 and will be completed in September this year.
Once complete, the Five-hundred-meter Aperture Spherical radio Telescope, or "FAST," will surpass Puerto Rico's Arecibo Observatory, which is 305 meters in diameter.
"Being the world's largest filled-aperture telescope located in an extremely radio-quiet site, its scientific impact on astronomy will be extraordinary, and it will certainly revolutionize other areas of the natural sciences," said Nan Rendong, chief scientist of the FAST Project.
FAST will give astronomers a jump-start towards many science goals, Nan added. For example, they could survey natural hydrogen in distant galaxies, detect faint pulsars or even hear signals from other civilizations.