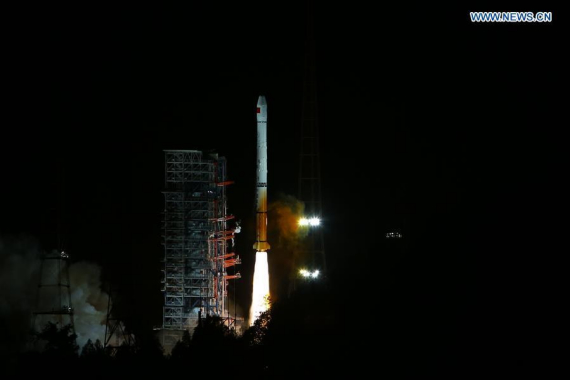 A Long March-3A carrier rocket carrying the 22nd satellite in the BeiDou Navigation Satellite System (BDS) lifts off from Xichang Satellite Launch Center, southwest China's Sichuan Province, March 30, 2016. China launched a satellite to support its global navigation and positioning network at 4:11 a.m. Wednesday. (Photo: Xinhua/Wang Yulei)
4. BEIDOU: TIME AND SPACE NAVIGATOR
Named after the Chinese term for the Big Dipper constellation, the Beidou project was launched in 1994, some 20 years after the inception of GPS. The first Beidou satellite was launched in 2000.
The construction of the Beidou satellite navigation system has followed a "three-step strategy": first, the building of an experimental navigation satellite system by 2000; second, the building of a regional navigation system by 2012; and third, enabling the system to cover every corner of the globe by 2020.
China has achieved the first two steps, becoming the third country to have an independent satellite navigation and positioning system after the United States and Russia. Beidou is one of four satellite navigation systems in the world. The other three are America's GPS, Russia's GLONASS and Europe's Galileo.
Beidou has played an important role on many occasions. After the 2008 Sichuan earthquake, it was used to transmit information to the emergency command when other telecommunications failed.
Its use now extends to industries including transport, marine fisheries, weather forecasting, hydrological monitoring, surveying and mapping, as well as to smartphones and car navigation.