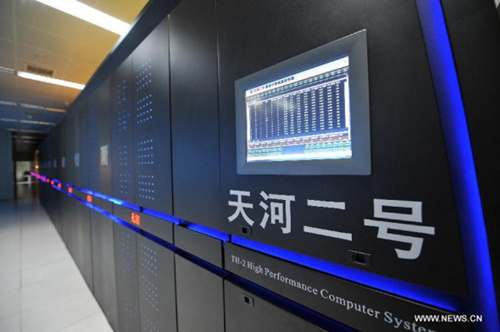 Photo taken on June 16, 2013 shows the Tianhe-2 supercomputer developed by China's National University of Defense Technology in Changsha, capital of central China's Hunan Province. (Photo: Xinhua/Long Hongtao)
3. TIANHE-2: THE WORLD'S MOST POWERFUL COMPUTER
The Tianhe-2 supercomputer, developed by China's National University of Defense Technology, has held the title of "world's most powerful computer" since 2013.
Tianhe-2, which means "Milky Way-2" in Chinese, can operate at 33.86 petaflops per second, the equivalent of 33,860 trillion calculations per second.
"It is driving multiple industries and sci-tech projects. It can handle high levels of analyzing, computing and processing," said Yuan Xuefeng, director with the National Supercomputer Center in Guangzhou, Guangdong Province.
Tianhe-2 completed high-precision calculations of the external flow field around the C919, China's first domestically-made large passenger jet, in only six days. The task would have taken about two years without the supercomputer.
In the medical field, Tianhe-2 can create three-dimensional reconstructions of aortic aneurysms. "That means doctors can gain a comprehensive understanding of aneurysms before operating. It can help evaluate and reduce medical risks," said Yuan.
The supercomputer has been used in national priority projects covering energy, bioscience, pollution control and high-speed rail design.