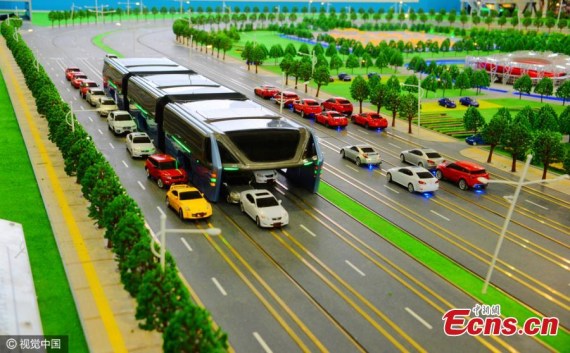 Image shows a recently unveiled design concept for a "straddling bus," which lets cars drive underneath. (Photo/CFP)
2. STRADDLING BUS: THE FUTURE OF TRANSPORT?
Tired of traffic jams and exhaust fumes? A newly-unveiled design for a "straddling bus," which lets cars drive underneath, can not only save road space but also help reduce air pollution.
The concept is the brainchild of Beijing-based Transit Explore Bus, which took its design to a high-tech expo that just concluded in the city.
The vehicle's passenger compartment spans two traffic lanes and sits high above the road surface on a pair of stilts, leaving the road clear for ordinary cars to pass underneath.
Running along special tracks, the bus can carry up to 1,400 passengers and travel at up to 60 km per hour. "The biggest advantage is that the bus will save lots of road space," said Song Youzhou, its chief engineer.
Furthermore, the design is environmentally friendly. Powered by electricity, the straddling vehicle could replace about 40 conventional buses. A test version is set for a trial run in north China's Qinhuangdao City in July or August. Full operation may start in 2017 or 2018.