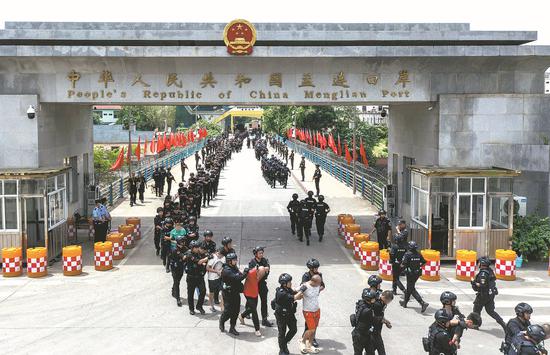 More than 1,200 fraud suspects are handed over to Chinese law enforcement officials on Sept 6 in Pu'er, Yunnan province. (Photo/CHINA DAILY)
Criminal gangs lure recruits with promises of high-paid work
A 24-year-old man from Nanchong, Sichuan province, is bitterly regretting his impulsive decision to join a company in northern Myanmar on the advice of a friend he met online.
"I would have been married this year if I hadn't inadvertently taken part in telecom fraud," said the man, who uses the alias Li Ming and was speaking at a detention center in his home city, where a number of criminal cases linked to him are pending.
Attracted by the prospects of earning a high salary, Li joined the company in Myanmar in March 2020 after being told about it by the friend he met in cyberspace.
However, he said the following seven months were the darkest period of his life, as he faced hunger, beatings, threats and a life-or-death escape.
Li was traded among six groups involved in fraudulent activities, before eventually escaping from the clutches of the last group to be smuggled back to China in October 2020.
In June last year, Li was arrested while working in Fujian province. His arrest resulted in his girlfriend ending their relationship. Those accused of fraud with him gave evidence of Li's criminal acts.
The law enforcement department in Nanchong also confirmed that at one of the fraudulent companies Li worked for from Sept 21 to Oct 21, 2020, he cheated victims out of more than 82,000 yuan ($11,200). After his arrest, Li refunded 13,000 yuan.
In October, he was sentenced to 17 months in prison for telecom fraud and for crossing the national border illegally.
"People should not trust high-paid jobs advertised online, but should rely on their own abilities and take life steadily. They should not challenge China's laws," Li said, adding that he was lucky to get home, as others who joined such illegal ventures may have died overseas.