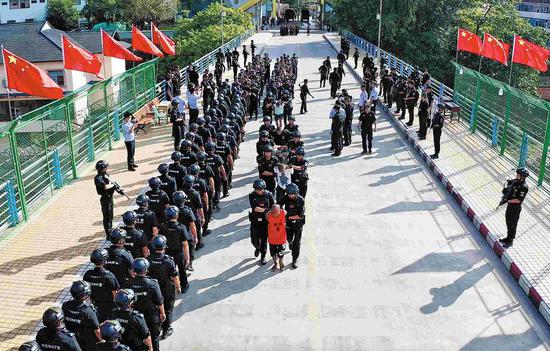 A total of 109 suspects involved in telecom fraud are handed over to Chinese police at a border pass in China's Yunnan province on Saturday. (CHINA DAILY)
A group of 109 suspects involved in telecom fraud operated from northern Myanmar and equipment used in the crimes were handed over to Chinese police on Saturday, as the transnational crackdown on such cases continued.
To curb telecom fraud in northern Myanmar on the border with China, the Ministry of Public Security has deployed public security officers in Yunnan province to strengthen border law enforcement cooperation with neighboring countries.
In recent years, the crackdown on telecom fraud has increased and criminal gangs that were previously hidden in other Southeast Asian countries have shifted their operations to northern Myanmar, mainly in areas adjacent to cities in Yunnan, the ministry said.
Greater efforts have been made to investigate and tackle such crimes. So far, 1,482 suspects involved in telecom fraud in northern Myanmar have been handed over to Chinese authorities, according to the ministry.
"This has effectively squeezed the living space of overseas criminal groups involved in fraud," it said.
As the crackdown continues, the ministry has deployed provincial public security organs to process and investigate individuals who have been repatriated from Myanmar to China suspected of committing telecom fraud. This will enable the ministry to deeply dig into the upstream and downstream criminal chain.
Efforts have also been made to crack down on illegal immigration and other crimes domestically related to overseas telecom fraud, and severely punish accomplices within the country, creating a high-pressure deterrent, it said.
Last week, the ministry and the Supreme People's Procuratorate launched joint handling of major cross-border online fraud cases to combat such crimes and domestic accomplices more efficiently.
In a case they disclosed, an investigation started by police in 2021 led to the arrest of over 560 members from eight fraud groups operating in northern Myanmar. A total of 78 have been sentenced, and 60 have been transferred for further investigation and prosecution.
The fraud groups were operating from northern Myanmar's Mong Pawk area, which shares a border with Thailand and is just a dozen kilometers away from China.
The groups leased office space with accommodations, provided by several financial backers. They enforced strict control and even deployed armed guards to watch over the victims forced to work for them.
The ministry said that previous crackdown operations have achieved significant results, and it will continue to intensify its efforts.