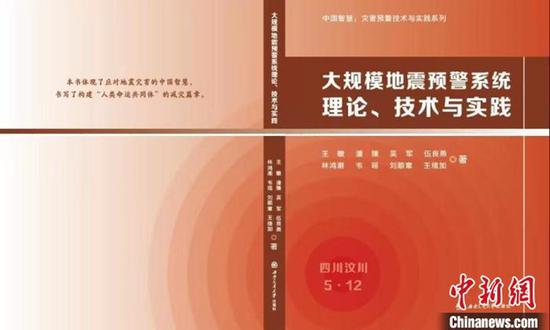 China's first large-scale earthquake early warning book. (Photo/China News Service)
China issued first large-scale earthquake early warning system book in Chengdu, capital of Southwest China's Sichuan Province on Thursday, a day before the 15th anniversary of the catastrophic Wenchuan earthquake, as well as the 15th Disaster Prevention and Reduction Day, to raise public awareness of disaster prevention.
This book is the first of its kind that systematically introduces China's earthquake early warning technology, policies, regulations, services and practical effects.
It introduces the process of developing the early warning technology and application as well as the history of the technology, services and mode innovation from research to application, reflecting the country's practical achievements in the field, according to a press release the Chengdu-based Institute of Care-life sent to the Global Times on Thursday.
China is one of the countries experiencing the worst natural disasters, and the damage from earthquakes is particularly significant. The magnitude 8.0 earthquake that hit Wenchuan in Sichuan killed more than 69,000 people and left nearly 18,000 missing.
After Wenchuan earthquake, the core technical index - including the response time and reliability and application service scale of earthquake warnings have been leading the world, said Wang Tun, director of the institute and lead author of the book. China has accumulated much experience in this area that is worth further study.
When a magnitude 7.0 earthquake jolted Ya'an in Sichuan on April 20, 2013, the early warning network system sent warnings 28 seconds in advance to Chengdu and five seconds in advance to the main urban area of Ya 'an, according to the institute.
During the past decade, the technology has been improved continuously. The institute has successfully sent early warnings of 76 destructive earthquakes.
The book noted that the national earthquake administration and relevant authorities have done a lot of research and development into earthquake early warning technology, as well as the construction of early warning monitoring and service networks, policies and regulations and public education in the field to promote the country's earthquake early warning system.
In November 2020, the China Earthquake Administration and the Chengdu institute signed a memorandum of cooperation to jointly establish the world's largest earthquake early warning network, and to explore an innovative path of earthquake early warnings with Chinese characteristics.
The book release ceremony was jointly held by the Chengdu center of earthquake early warning technology of the China Earthquake Administration, the College of Water Resource and Hydropower of Sichuan University, the Sichuan key laboratory of earthquake warning and multi-disaster warning, Chengdu-based Institute of Care-life and Southwest Jiaotong University Press.