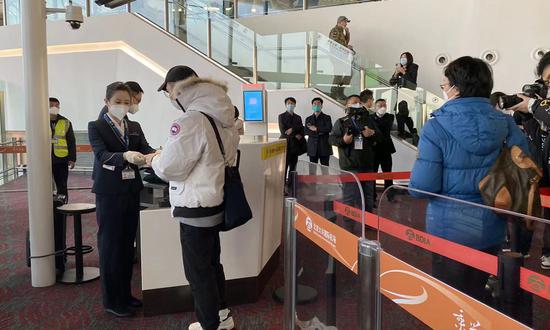 Passengers take first outbound route from Beijing Daxing International Airport to HongKong as the airport officially resumed outbound travel on January 17, 2023. The flight took off at 9:06 am with 101 passengers onboard. (Photo: Tu Lei & Zhang Yashu/ GT)
Beijing Daxing International Airport, the second air hub in the capital city, resumed its first outbound overseas flight services Tuesday morning after a nearly three-year pandemic induced suspension.
The flight, operated by China Southern Airlines bound for Hong Kong with 215 passengers onboard took off at 9:06 am, marking the official resumption of the airport's outbound passenger flight services, after China downgraded its management of COVID-19 fromm Class A to Class B and scrapping quarantine requirements for inbound travelers from January 8.
Guan Jie, a Beijing resident, said she will take the flight to Hong Kong then transfer to Boracay in Philippines to celebrate the lunar Chinese New Year with families. "My first stop is the Boracay island, where it is very warm, and I plan to take my child snorkeling," she told the Global Times on Tuesday. Her 11-year-old daughter was also excited to share the journey on her WeChat Moments.
Another traveler named Lan Yu, told the Global Times that this was the first trip flying overseas since the outbreak of the COVID-19. She often flew to Japan and Hong Kong before the pandemic, and this year she will spend the lunar New Year in Hong Kong. "I will eat some delicious food, see scenic spots there, and relax," she said.
Affected by the pandemic, all international flights for Daxing airport were transferred to Beijing Capital International Airport, starting from March of 2020.
On January 8 of this year, the Civil Aviation Administration of China (CAAC), the civil aviation regulator, said that flights would now revert to arriving in Beijing directly, instead of being diverted to other mainland cities.
China Southern Airlines, China Eastern Airlines, Beijing Capital Airlines and Himalaya Airlines are among the first group of carriers to resume outbound flights to and from the Daxing airport.
The resumption routes include a China Southern flight from Beijing Daxing to Hong Kong, which will operate three times per week, while Himalaya Airlines will run one flight per week to Kathmandu.
In addition, on Wednesday Beijing Capital Airlines is expected to open the route from Beijing Daxing to the Maldives. China Eastern Airlines also plans to resume a service from Beijing Daxing to Bangkok soon.
"After receiving the flight resumption plan, we continued to improve the customs operation process from the aspects of aircraft scheduling, passenger and baggage flow to make a full preparation," Zhao Zhao, deputy director of Beijing Daxing International Airport Customs, told the Global Times on Tuesday.
At the quarantine site for inbound passengers, customs officials are equipped with domestically-made advaned intelligent quarantine inspection equipment such as non-sensing infrared thermometers and self-service health declaration and inspection all-in-one machines.
And, the customs stores the declaration data of inbound passengers, customs clearance time, and body temperature to facilitate self-service customs clearance for passengers.
At the same time, the customs has taken the lead, getting fully equipped with new high-speed CT inspection equipment for luggage inspection, with a transmission speed of 0.5 m/s, which nearly double the speed of ordinary CT machines of 0.28 m/s, reducing the time for passengers to pass inspection by half, according to the information shared by the Beijing Daxing International Airport Customs.
International transfers at the airport will also be resumed, with the adoption of a 144-hour visa-free policy for the Beijing-Tianjin-Hebei region, Daxing airport said.
China Southern Airlines said it is assessing resumption of the routes from Beijing Daxing to Seoul Gimpo and Seoul Incheon. Also, long-distance international routes, including Beijing Daxing to Amsterdam and Istanbul routes are being actively reviewed and planned. China Southern also plans to open new routes from Beijing Daxing to London and Moscow.
After its coming into operation in 2019, the first international flight from Daxing airport took off on October 27 that year. Before the pandemic, the airport ran services to and from 13 countries and regions, according to the Xinhua News Agency.