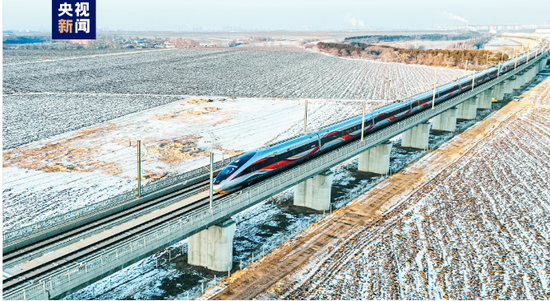 (Photo/A screenshot of the CR400BF-GZ from China Media Group)
The CR400BF-GZ train, the smartest and most frost-resistant Fuxing bullet train model, was deployed in Northeast China's Heilongjiang Province on Monday. It's the coldest and highest region the model has been used in so far. The Fuxing bullet train has a maximum speed of 350 kilometers per hour.
The trains will be operating for the first time during the ongoing 40-day chunyun or the Spring Festival travel rush on routes in China's northernmost alpine region, China Media Group reported.
Compared with other Fuxing models, the CR400BF-GZ has the highest speed level. It is more resistant to low temperature and snow and can operate under an extreme cold environment of -40 C.
The advanced technology represents a major breakthrough for China's high-speed railway technology. The nation's independently developed model can meet the operational demand under various temperature conditions.
The designated system and parts used for constructing the model have all been specifically equipped with low temperature-resistant design, while ensuring smooth ventilation and effectively preventing snow and ice from entering the equipment compartment through the filter.
The train is also more intelligent with advanced technology implemented in targeted fields such as safety monitoring, aiming to further elevate the service quality.
Two sets of the trains will undergo a series of test run, and start operating on lines in Heilongjiang.
The world's first hydrogen-energy urban train with independent intellectual property rights officially rolled off the assembly line in Chengdu, Southwest China's Sichuan Province, on Wednesday. The train adopted the key core technology of the Fuxing bullet train, with a maximum speed of 160 kilometers per hour.