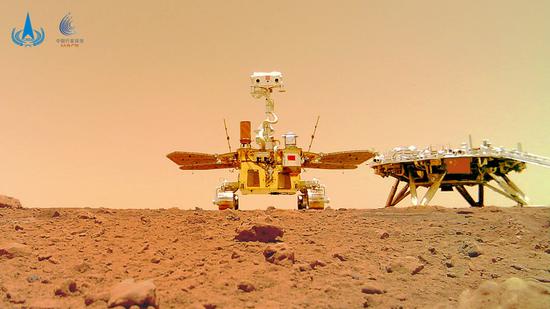 Photo released on June 11, 2021 by the China National Space Administration (CNSA) shows a selfie of China's first Mars rover Zhurong with the landing platform. (CNSA/Handout via Xinhua)
Tianwen 1, China's historic Mars mission, has accomplished all its preset scientific tasks, according to the China National Space Administration.
The administration said on Wednesday that the Tianwen 1 mission orbiter has obtained medium-definition images of the entire planet, marking the completion of its scientific goals.
The craft has circled Mars 1,344 times to date and will continue to carry out extended remote-sensing operations and technological tests, according to the administration.
Meanwhile, the Zhurong Mars rover, which has been in dormant mode since mid-May, is expected to resume explorations in December, when the weather is more favorable.
Named after an ancient Chinese poem, Tianwen 1 was launched on July 23, 2020, becoming the country's first independent interplanetary exploration endeavor.
The craft traveled about 475 million kilometers and carried out several trajectory maneuvers before entering Martian orbit in February last year.
The rover, named after the god of fire in ancient Chinese legend, touched down on the planet on May 15, 2021, and began to travel across the Martian surface a week later.
Before it entered dormant mode, the 1.85-meter-tall, 240-kilogram robot traveled nearly 2,000 meters and obtained much data and many images en route to its destination — an ancient coastal area on Utopia Planitia, the vast Martian plain where it landed.
By now, the 13 scientific instruments on the orbiter and the rover have transmitted nearly 1,040 gigabytes of raw data back to Earth. The data has been delivered to Chinese scientists and has helped deepen knowledge of the Red Planet, said the administration.