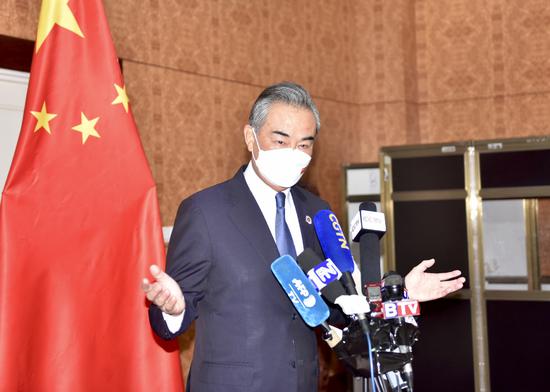 State Councilor and Foreign Minister Wang Yi speaks at a press conference in Phnom Penh, August 5, 2022. (Photo/Xinhua)
United States House Speaker Nancy Pelosi's provocative visit to Taiwan last week has undoubtedly heightened tensions in the China-U.S. ties and cross-Straits relations, as Beijing hit back with strong countermeasures in response to her "reckless and irresponsible" move.
However, analysts said that China's responses, including military drills and sanctions are not just for the purpose of safeguarding national sovereignty and territorial integrity, as Taiwan is an inalienable part of its territory. More important, they help to uphold international law and the basic norms governing international relations, which are challenged by U.S. hegemony.
Speaking to international media on Friday, State Councilor and Foreign Minister Wang Yi said China's position is "legitimate, reasonable and lawful" and its measures are "resolute, strong and proportionate".
"We will firmly safeguard China's sovereignty and territorial integrity, resolutely deter the U.S. from using Taiwan to contain China, and resolutely shatter the Taiwan authorities' illusion of seeking independence by relying on U.S. support," he said.
"Meanwhile, we are also upholding international law and the basic norms governing international relations, especially the norm of noninterference, the most important international norm, as stipulated in the United Nations Charter."
Wang stressed that if the principle of noninterference in the internal affairs of sovereign states is ignored or abandoned, the world will be dragged back to the law of the jungle, and the United States will become even more unscrupulous in bullying other countries, particularly small and medium-sized countries, from its so-called "position of strength."
"We must not allow such things to happen, and all other countries should stand in unity to stop such things from happening and not allow human civilization to regress," he said.
That is why more than 100 countries have publicly stood up and reaffirmed their firm adherence to the one-China principle and their understanding of and support for China's legitimate position, Wang added.
Historically, Taiwan is part of China. It was separated from the mainland due to the civil war in the 1940s. UN General Assembly Resolution 2758, adopted in October 1971, recognized the People's Republic of China as the only legitimate representative of China in the United Nations.
In response to Pelosi's visit to Taiwan, UN Secretary-General Antonio Guterres reiterated the UN's support for the one-China principle on Wednesday. "We abide by General Assembly resolutions, by the one-China policy, and that is the orientation that we have in everything we do," he said.
China maintains that the Taiwan question is purely China's internal affair, which allows no foreign interference. The one-China principle is the most important political foundation for all countries that would have diplomatic relations with China, including the United States.
In the past four decades and more since China and the U.S. established diplomatic ties, their relations have generally maintained stable development based on the three Sino-U.S. joint communiques, in which the U.S. committed to the principles that "there is but one China and Taiwan is part of China" and it will not develop official ties with the Taiwan region. The one-China principle and the three joint communiques constitute the political foundation of the bilateral ties.
However, in recent years, the U.S. has been distorting, altering, obscuring and hollowing out the one-China principle, has used all means of playing the "Taiwan card" to contain China, and has sought to upgrade exchanges with the island, intensify arms sales to Taiwan and embolden "Taiwan independence" separatist activities.
Mou Lin, a core member of the Cyberspace Strategy Think Tank, said Pelosi's visit to Taiwan was a blatant violation of Resolution 2758 — one of many cases in which the U.S. has trampled on international law in pursuit of its bullying and hegemony.
The U.S. has been advocating "rules-based international order", but what it did has told the world the so-called "rules" are that it can arbitrarily interfere in other countries' internal affairs, topple other countries' governments, impose sanctions on others and plunder other countries' resources, yet during the process it may not be resisted, Mou said.
He called on countries around the world to be fully aware of the nature of U.S. hegemony and work in unity to struggle against it in order to promote world peace and development.
China has criticized the "rules-based international order" claimed by the U.S. and its allies as "house rules" for the purpose of maintaining the so-called "order" led by the U.S., and it has said that the U.S. always puts its domestic law above international law and pragmatically cherry-picks international rules as it sees fit.
Andrew Korybko, a U.S. political analyst based in Moscow, said that the overarching trend in international relations is that the U.S.-led West has gone rogue and is openly violating principles that have ensured peace and stability for decades.
"This is being done out of desperation to delay America's fading unipolar hegemony, but it carries with it the dangerous consequence of destabilizing the world," Korybko said in an opinion piece published on website of the China Global Television Network.
In a meeting with State Councilor Wang in Cambodia on Friday, on the sidelines of the ASEAN-plus Foreign Ministers' Meeting in Phnom Penh, Cambodia, Russian Foreign Minister Sergey Lavrov said U.S. hegemonic policies run counter to the international consensus and will have no future.
Russia is ready to work with China to uphold international law and the purposes and principles of the UN Charter, Lavrov said.