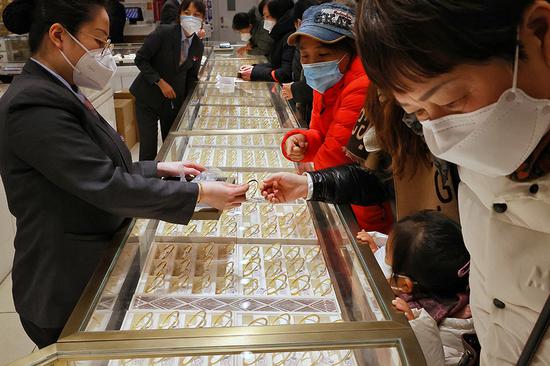 Shoppers look at gold ornaments at a jewelry store in Beijing. (PHOTO by JIANG DONG/CHINA DAILY)
Experts expect volatility as appetite for risk down due to global lenders' woes
Crude oil and gold prices, which have been disparate amid the global banking industry turbulence, may continue to be volatile as risk appetite has shrunk in the current complex environment, experts said on Tuesday.
As of 3 pm on Tuesday, the benchmark WTI crude shed 0.8 percent to linger around $67 per barrel, despite the fact that it managed to show a V-shape bounce to close 1.3 percent higher on Monday.
This has followed the WTI's 12.96 percent decline within a week to Friday to sink below the $70/barrel psychological level — the biggest weekly contraction in a year.
Brent crude, another industry benchmark, also shed 0.5 percent as of 3 pm on Tuesday to hover around $73/barrel. The index shed 8.86 percent within the trading week to Friday.
Han Zhengji, crude oil analyst at commodities consultancy JLC, said investors' capital has partly withdrawn from risky assets such as crude oil after some banks in the United States and Europe such as Silicon Valley Bank, Signature Bank, First Republic and Credit Suisse landed in deep financial trouble, which exerted pressure on oil prices.
CNBC channel reported that Goldman Sachs experts wrote in a note on Saturday that oil prices have plunged amid banking stress, recession fears and an exodus of investor flows, which may wipe off China's demand boom this year.
Therefore, the investment bank expects Brent to come in at $94/barrel in the next 12 months, while its previous estimate was $100 for the second half of this year. For 2024, Goldman Sachs analysts see Brent crude at $97/barrel.
In a monthly report released on March 14, OPEC increased its projection for China's oil demand to 710,000 barrels per day, up from the estimate of 590,000 bpd a month earlier.
But Ipek Ozkardeskaya, senior analyst at Swissquote Bank, said that crude oil has been sold too fast in too short a time recently. A positive correction would be healthy at the current levels.
Gold, which is usually pursued to hedge risks, rallied recently. The spot price of gold once touched $2,010.9 per ounce on Monday, approaching the all-time high of $2,075 per ounce reached in August 2020. COMEX gold futures, the world's leading benchmark futures contract for the bullion, continued to climb 0.15 percent as of 3 pm Tuesday. Major gold futures at the Shanghai Futures Exchange also closed 0.31 percent higher on Tuesday.
Following the average 7.83 percent price surge on Monday, the A-share precious metal companies continued to gain 0.28 percent on Tuesday, when the benchmark Shanghai Composite Index closed 0.64 percent higher.
Ao Chong, chief metal industry analyst of CITIC Securities, said the recent gold rally mainly sprang from a rising sentiment to hedge against risks triggered by SVB's demise. The Chicago Board Options Exchange's Volatility Index or VIX, often called the "fear index", has surged more than 24 percent this month. If the banking turmoil aggravates, the gold price may exceed the previous high reached in 2020, he said.
Arun Sai, senior multi-asset strategist of Pictet Asset Management, a Swiss firm, said he believes that many areas of the financial market have not fully priced in the risk of an economic recession. The attraction of gold will continue to increase as real interest rates stabilize and grind lower alongside a weakening US dollar, he said.
Some in the market are even anticipating the US Fed to start lowering interest rates, probably in June at the earliest. Therefore, the 10-year US treasury yield will likely continue to decline, which could further drive up the gold price substantially, said Hua Li, an analyst from China Galaxy Securities.