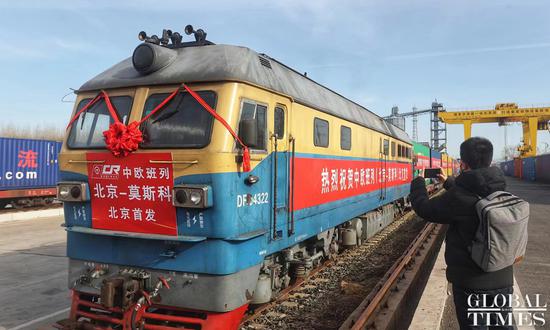 Beijing sends its 1st China-Europe freight train service on Thurs, connecting with Moscow. The train carried 55 40-foot containers of home appliances and construction materials and will arrive in 18 days.
Beijing has become one of the latest localities in China to adopt the China-Europe freight train platform on Thursday, as localities vie to participate in the China-proposed Belt and Road Initiative (BRI).
Beijing sends its first China-Europe freight train service on Thursday. The train is carrying 55 40-foot containers worth of auto parts, apparel, home appliances and construction material. The train will enter Russia via Manzhouli Port in North China's Inner Mongolia Autonomous Region before arriving in Moscow with the 9,000-kilometer journey taking about 18 days to complete.
Experts said that as BRI enters its 10th year of development, the China-Europe freight train, as a flagship BRI project, is set to see explosive growth in 2023.
This is Beijing's first China-Europe freight train as the municipality strives toward further opening-up and building itself into an international consumption center city with global influence.
Chu Yixiao, general manager of Taitong International Transportation Co, is in charge of organizing logistics for the train service.
"Currently the company is aiming to operate no less than four train voyages per month, with the goal to push to number to no less than 30 by the end of 2023. In 2024, we will aim to build the Jingping logistics hub into a regional logistics center for China-Europe freight train service in the Beijing-Tianjin-Hebei region," Chu told the Global Times on Thursday.
The return cargo of the Beijing-Moscow train will mainly carry retail consumer goods, including food, dairy products, juice, liquor, chocolate, and rice, flour, grain and oil, according to Chu. "Due to Russia's rich supply of mineral ores, wood, metal, pulp, and potash, the train will also carry raw materials earmarked for industrial use."
Deng Jie, general manager of the Jingping logistics hub, where the train departed, told the Global Times that the operating the China-Europe freight train service will offer a big booster effect in the municipality's efforts to build itself into an international consumption center.
Bilateral trade between China and Russia saw rapid growth in recent years. In 2022, bilateral trade surged 34.3 percent year-on-year to a record high of 1.28 trillion yuan ($190 billion) in yuan-denominated terms, Chinese customs data showed.
In the first two months of this year, China-Russia trade rose by 36.4 percent to hit 232.5 billion yuan, customs data showed in March.