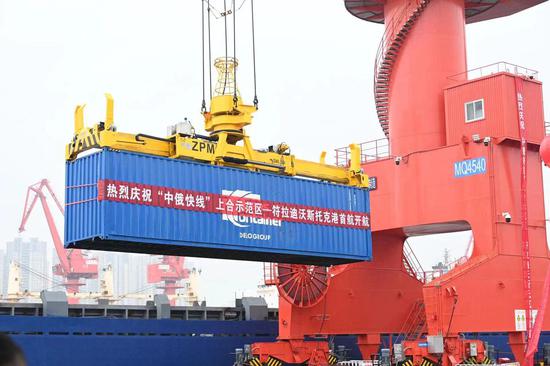 A celebration banner is displayed on a shipping container during the launching ceremony on Wednesday in Qingdao, Shandong province. (Photo provided to chinadaily.com.cn)
The maiden voyage on the China-Russia express route between the China-Shanghai Cooperation Organization Local Economic and Trade Cooperation Demonstration Area and Vladivostok, Russia, was launched on Wednesday at Qingdao Port in Shandong province.
The freight — 346 twenty-foot equivalent units (TEUs) of tires, daily necessities, machinery accessories and cosmetics worth of around $13 million — is expected to be delivered in four days to the largest Russian port on the Pacific Ocean, then taken to other cities in Russia and Europe via railway.
"The inaugural voyage is an important initiative of the demonstration area to explore a new multimodal transport system amid the COVID-19 pandemic disruption," said Zhang Xinzhu, secretary of the area's Party working committee and a member of the Standing Committee of the CPC's Qingdao Municipal Committee.
Sea-rail intermodal transport on the China-Russia Express can give full play to the advantages of rail and sea in the demonstration area, further improve its sea-rail intermodal transport channels and smooth the major international logistical channel of westward transportation from Qingdao to Europe.
"In this way, we can increase transport capacity by more than three times, cut transportation time in half from rail alone and improve efficiency while reducing costs for enterprises," said Zang Yuanqi, an official serving in the area's administrative committee.
So far, the demonstration area has opened 17 international rail routes to 51 cities in 22 SCO member countries and countries involved in the Belt and Road Initiative. This year, the area has opened two new two-way special trains — one from the demonstration area to Mannheim, Germany, and the other from the area to Hungary and Serbia.
The demonstration area has explored innovative trade models and improved trade facilitation. In the first half of this year, total import and export volume between Qingdao and SCO countries reached 30.75 billion yuan (nearly $4.42 billion), an increase of 14.3 percent year-on-year. The import and export volume between the area and SCO countries is expected to increase by 86 percent.