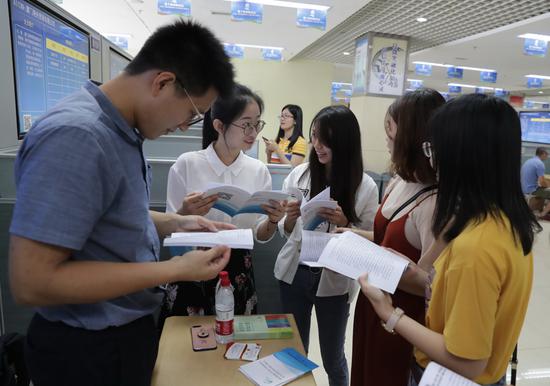 Job applicants (right) consult representatives of an employer at a job fair on the sidelines of the Straits Forum in Xiamen, Fujian province, on Saturday. (Chen Lijie/For China Daily)
Fujian province offers subsidies for those who move to the mainland
As the Chinese mainland helps Taiwan residents work or start business on the mainland, Fujian province - the nearest province to the island - is taking the lead in offering favorable policies.
Among the 66 measures that Fujian rolled out during the weeklong Straits Forum, which wrapped up on Monday, were 22 dealing with jobs.
The Straits Forum is an annual gathering aimed at enhancing people-to-people interaction across the Taiwan Straits.
Talent from Taiwan employed in Fujian through registered agencies will be awarded 30,000 ($4,700), 20,000 and 10,000 yuan for doctoral, master and bachelor's degree holders, respectively.
Taiwan talent agencies that establish offices in Fujian will receive 30,000 to 60,000 yuan in subsidies, under the new measures. The province will also allow Taiwan residents to work in more sectors, including public institutions and hospitals, and to apply for mainland skilled or professional certificates.
Wang Nai-hsien, 30, from Taichung, deputy head of the youth branch of the Xiamen Taiwan Businessman Association, said development on the mainland provides many opportunities, and the new measures give young people a sense of belonging.
"Xiamen is the first city to create such policies. Taiwan residents starting businesses here will enjoy subsidies for renting apartments and offices, as well as startup funds," said Wang, who helps provide information to people from Taiwan who want to work or start a business in Xiamen.
"Now, many young Taiwan people are creating restaurant brands in Xiamen, bringing Taiwan cuisine here, including pearl milk tea, which is popular in Xiamen. IT, design and education are also popular," she said.
Wang said many cities on the mainland enjoy a promising future, including Chongqing municipality and Chengdu, Sichuan province. She said she would introduce the cities to many young Taiwan people, but most are interested in Xiamen.
"The city is a good starting point for those who want to try their luck on the mainland, because it has the same dialect, food and living habits as Taiwan," she said.
"Many will also be willing to leave the city for new opportunities in other mainland cities after they have adapted to mainland life and built their own social relationships," she added.
About 2,700 job vacancies from 190 companies, including about 1,300 internships, were provided at a job fair for Taiwan people on Saturday in Xiamen, the local human resources authority said.
Taiwan students who accept an internship at a registered Xiamen company will get 2,480 yuan as living support each month for the first year and 2,000 yuan as a transportation subsidy.
In March last year, Xiamen Airlines recruited its first batch of air attendants from Taiwan. More than 40 were employed, out of 2,300 applicants, and are capable of speaking English, Southern Fujian or Hakka dialects, as well as local dialects in Taiwan.
Li Ching-yen, 24, from Taoyuan, a graduate of National Taiwan Ocean University, said: "I had never heard of the air carrier before, but their interview impressed me a lot. They even sent each candidate a gift. They show their consideration in many details."
"The salary is high, with good welfare benefits, and Xiamen is close to Taiwan, so my parents support my choice," Li said.
In May, the company recruited a second batch of attendants in Taiwan, with 156 out of 4,000 applicants passing the first interview.
The company said it plans to offer 1,000 jobs for Taiwan residents in fields including IT, infrastructure construction, marketing and hotel management.
According to the local government, more than 2,000 young Taiwan residents have accepted internships in Fujian, and more than 14,000 are working or running a business in the province.