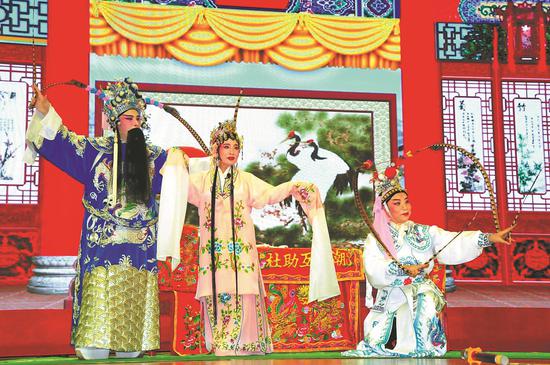 Artists perform Chiu Chow Opera in Hong Kong during the Yu Lan Festival, which is traditionally held in the seventh lunar month to comfort the spirits of those who have died.(Photo provided to China Daily)
City's treasured lifestyle preserved as intangible cultural heritage
The topic of intangible cultural heritage, or ICH, is as crucial to Hong Kong as a cup of milk tea, one of the city's favorite beverages.
Milk tea holds clues to cultural history in Hong Kong, and several generations have worked to bring this drink to the public.
Wong Ka-wo, the founder of Kampery Group, a company mainly selling products such as Hong Kong-style milk tea bags, coffee bags, and milk tea and coffee machines, has tasked a robot with making milk tea for thousands of fans of the drink.
With one mechanical arm holding a cup and another pouring tea from a pot, KamChAI, the city's first robot based on artificial intelligence to make the local style of milk tea, can brew nine cups using different teas and methods in 12 minutes.
Wong, in cooperation with the Hong Kong Productivity Council, spent HK$2 million ($256,000) and one year developing KamChAI, before launching the robot in 2019. He aims to use technology to preserve the city's traditional tastes.
Three generations of Wong's family have devoted their lives to milk tea, which typically costs HK$10 a cup in restaurants.
When Wong was young, his father often took him to a cafe he opened in the city's Sheung Wan district. Wong was fascinated by the way in which milk tea brings people together and revitalizes them.
Britons brought black tea to Hong Kong, but as it was expensive, the beverage could only be found in high-end Western restaurants and hotels. After World War II, it was used by traditional street food stall holders to make Hong Kong-style milk tea.
The stall holders bought cheap black tea from local grocery stores, and replaced the fresh milk with condensed milk to produce milk tea, which quickly became popular among the public.
Wong's father used to run a grocery store that supplied black tea to the stall holders. His cafe also helped popularize the local style of milk tea.
In 1993, Wong carried his father's career on by founding the Kampery Group. Influenced by his family, he wanted not only to profit from the beverage, but also to preserve it.
In 2008, he founded the Association of Coffee and Tea of Hong Kong, a nonpolitical and nonprofit organization that provides a platform for interaction among practitioners in the coffee and tea industries. The association now has more than 6,000 members.
To unify the taste and brewing method for Hong Kong-style milk tea, Wong launched the KamCha Competition in 2009, which attracts tea masters from around the world. The annual competition draws thousands of participants, and has been held not only in Chinese cities such as Hong Kong, Shanghai, and Shenzhen and Guangzhou — both in Guangdong province — but also in overseas countries, including Australia and Canada.
In 2010, Wong began promoting Hong Kong-style milk tea as intangible cultural heritage. After preparatory work that included handing out milk tea bags in the streets and collecting signatures from the public, the craft of making Hong Kong-style milk tea was listed in the city's First Intangible Cultural Heritage Inventory.
Howard Wong, Wong Ka-wo's son and general manager of the Kampery Group, said: "Hong Kong residents now drink 1 billion cups of milk tea annually. However, many restaurants struggle to hire tea masters, as making this drink is tiring, dirty and labor-intensive."
To train tea masters, the Kampery Group has hosted various types of training workshop since 2017, which Howard Wong said have been attended by at least 5,000 people over the years.
"People are attending the workshops at a younger age. In addition, our workshops have attracted more than 200 foreigners to learn the craft," Howard Wong said.
"My son is now learning to make the local style of milk tea at home. The drink holds memories for our family, and is also a collective memory for Hong Kong. We hope to preserve its cultural and spiritual values," he added.
Angela Siu Po-yi, who heads the city's Intangible Cultural Heritage Office, said the craft of making Hong Kong-style milk tea embodies a combination of East and West.
Like the Wong family, the Hong Kong community, including the government, district organizations and artisans, are trying to protect this heritage and realize the potential of local culture.