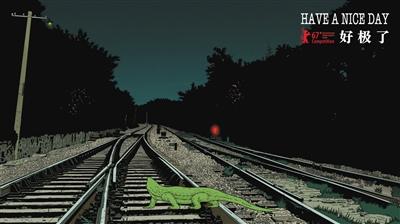 Have A Nice Day (Photo/chinaqw.com)
The 67th Berlin International Film Festival (BIFF), also called the Berlinale, announced on Friday that feature-length film "Have a Nice Day" is one of the nominees, making it the first Chinese film to be shortlisted by one of three major international film festivals.
"Have a Nice Day" is a black comedy that was written and directed by Liu Jian. It took three years to produce the film.
The plot involves a poor driver named Xiaozhang in a small city in southern China. He robs his boss of a large amount of money in order to save his relationship with his girlfriend. After the theft, Xiaozhang finds himself being chased by people because of his crime, and this situation leads to a series of ridiculous situations.
The officials at BIFF who selected "Have a Nice Day" have praised it as a "perfect film."
Yang Jian graduated from an art college in eastern China and worked on contemporary art after graduation. He once made animation for famous Chinese directors Feng Xiaogang and Meng Jinghui. In 2007, Yang founded his own workshop.
Yang's first film "Piercing" has been awarded by twelve international and domestic movie festivals.
The 67th Berlin International Movie Festival will be held in Berlin from Feb 9th to the 19th.