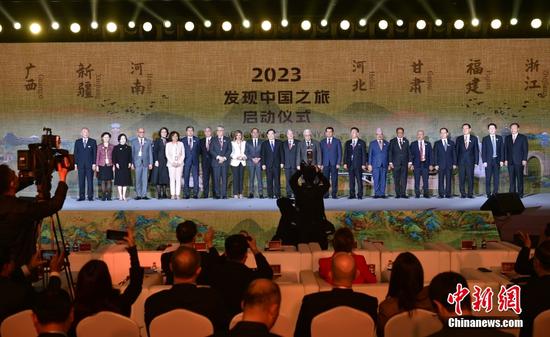 The launching ceremony of 2023 Discovering China (Photo: China News Network/Li Jun)
(ECNS) -- The launching ceremony of 2023 Discovering China Cultural Tour was held in Beijing on Tuesday.
Seventy-three diplomats from 49 countries attended the launching ceremony and many of them expressed their appreciation for the picturesque sceneries, unique culture, and delicious food of China.
"I am one of the fans of this event and I come every year. In the program, we would love to do much more cooperation between Lebanon and China, and we are working on it, and hopefully, we can do something together like discover Lebanon and discover China at the same time," said Milia Jabbour, the ambassador of Lebanon to China.
Sobah Rasheed, deputy ambassador of Maldives to China, told ECNS that he had visited over 10 provinces and regions across the country, and he was impressed by Chinese culture, traditions and the lovely food. Compared with 30 years ago, when he was a young student in Beijing, the changes that happened here are "phenomenal", the ambassador said. "I'm really thankful to the Chinese people and the Chinese government for bringing global experience and motives to the world," he added.
"Ningxia left the deepest impression on me," said Bishnu Pukar Shrestha, Ambassador of Nepal, as "it was previously a desert but has been changed into green." He pointed out that a better environment is one of the things he understands about the Chinese path to modernization.
Sergey Manassarian, the Armenian ambassador to China, has also left his footprints on many places of the marvelous landscape of China. "I continue to be surprised for the fantastic, colorful nature of China. There are huge differences, but everywhere is fantastic," he said. Mentioning Chinese food, Manassarian noted that his favorite is Kung Pao Chicken, a stir-fry dish made with diced spicy flavor chicken that originated from Southwest China's Sichuan Province.
Farhod ARZIEV, the ambassador of Uzbekistan to China, mentioned that China and Central Asia countries have a lot of similarities including history, culture, and traditions. "It's very interesting to see the similarities during the visit myself, and exploring Chinese culture helps strengthen our culture links," he said. The ambassador also praised the very good infrastructure that have been developed in different regions.
Diplomats stationed in China will visit eight provinces and regions to discover the beauty of the land.