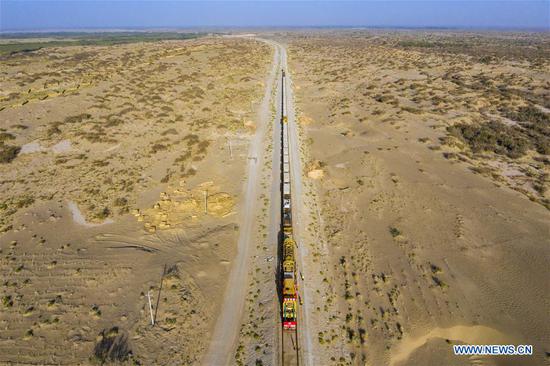 Aerial photo taken on Sept. 25, 2020 shows workers laying tracks at the construction site of Hotan-Ruoqiang railway in northwest China's Xinjiang Uyghur Autonomous Region. (Photo/Xinhua)
Special: Xinjiang
(ECNS) -- The Hotan-Ruoqiang Railway in northwest China's Xinjiang Uyghur Autonomous Region will commence operation on Thursday, marking the establishment of the world's first desert railway loop line, a 2,712-kilometer-long route that encircles Taklimakan Desert.
Stretching 825 kilometers, the Hotan-Ruoqiang Railway starts from Hotan City in Hotan Prefecture in the west and ends in Ruoqiang County of Bayingolin Mongolian Autonomous Prefecture in the east.
With a designed speed of 120 kph, the travel time between Hotan and Ruoqiang is about 11 hours and 26 minutes.
The Hotan-Ruoqiang Railway is situated on the southern edge of the world's second largest mobile desert Taklimakan, with 534 kilometers distributed in the sandy area, accounting for 65 percent of the total route. It is a typical desert railway.
Around 50 million square meters of grass grids were placed, along with the plantation of 13 million seedlings in order to promote the anti-desertification program.
Viaducts were also constructed, enabling safe passage in places where hazards associated with sandstorms were more likely.
The railway will operate two passenger trainsby which people along the route can directly arrive in Ruoqiang, Korla, and Urumqi in the fastest travel time of 11 hours and 26 minutes, 17 hours and 50 minutes, and 24 hours and 23 minutes, respectively.
Meanwhile, eight commodity trains operating on the route can transport cotton, walnuts, dates, minerals and other goods across China.
The Hotan-Ruoqiang Railway tickets have already been on sale since 12 p.m. of Wednesday.
The entire desert loop line will benefit more than 10 million people from southern Xinjiang, including Bayingolin Mongolian Autonomous Prefecture, Aksu Prefecture, Kizilsu Kirghiz Autonomous Prefecture, Kashgar, and Hotan.
The loop line is expected to improve the railway network of Xinjiang, facilitate people's travel and goods transport, bolster the development ofresources along the route, and help revitalize the rural area in Xinjiang.