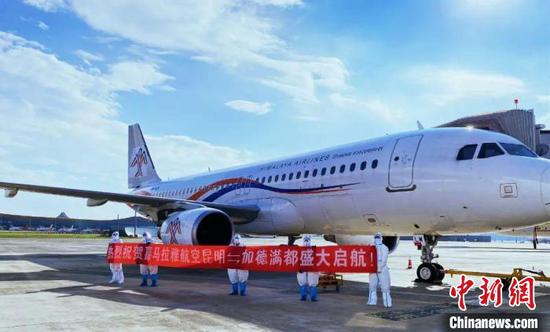 Staff members celebrates the opening of the Kunming-Kathmandu direct flight, May 31, 2022. (Photo provided by Himalaya Airlines)
(ECNS) -- A direct passenger flight connecting Kunming, southwest China's Yunnan Province and Kathmandu, capital of Nepal, was launched Tuesday by Himalaya Airlines.
The flight H9784 completed the round trip from Kathmandu Tribhuvan International Airport to Kunming Changshui International Airport on Tuesday.
This is the first international direct passenger flight operated by Himalaya Airlines connecting China and Nepal since the outbreak of the COVID-19 pandemic, as well as the sixth flight to Kathmandu followed by Beijing, Guiyang, Changsha, Shenzhen, and Chongqing to the city.
The flight will further improve the function of Kunming as an aviation logistics distribution center and a cross-border logistics center that can reach South Asia and the Middle East. It will also be helpful to open up the air corridor linking Southwest China and South Asia.
Himalaya Airlines is a Nepal-China joint venture founded in 2014 and headquartered in Kathmandu.