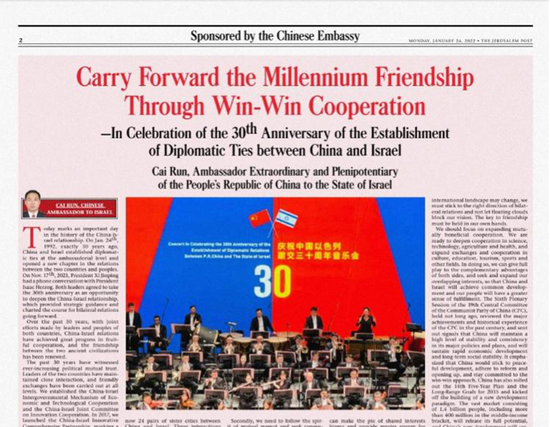 Chinese Ambassador to Israel Cai Run published an op-ed on The Jerusalem Post, January 24, 2022. (Photo from the Chinese Ambassy to Israel )
(ECNS) -- China-Israel trade volume reached $22.8 billion in 2021, over 400 times that at the beginning of the establishment of bilateral diplomatic relations on Jan. 24, 1992, Chinese Ambassador to Israel Cai Run said Monday.
Cai made the remarks during an online activity in celebration of the 30th anniversary of the establishment of China-Israel diplomatic relations.
"Over the past 30 years, with the joint efforts made by leaders and peoples of both countries, China-Israel relations achieved sound and stable growth, and our traditional friendship has been renewed," said Cai in his speech.
The past 30 years have witnessed mutually beneficial cooperation, he said.
China is Israel's biggest trading partner in Asia and the second largest in the world, the ambassador said, citing a series of landmark projects jointly built by the two sides.
The new port of Haifa, the Red Line of Tel Aviv Light Rail, the China-Israel Changzhou Innovation Park and the China-Israel (Shanghai) Innovation Park, for example, have injected strong impetus into bilateral relations in his eyes, he said.
Cai said the past 30 years witnessed a deeper friendship between Chinese and Israelis.
The two countries opened direct flights between the Israeli city of Tel Aviv and Chinese cities of Beijing, Shanghai, Guangzhou, Chengdu and Hong Kong before the COVID-19 pandemic broke out, and in 2019, 170,000 visits were made by Chinese tourists to Israel. The number of Israelis visiting China was around 100,000, according to the ambassador.
The two countries now have 24 pairs of sister cities. During the fight against COVID-19, the Chinese and Israeli people have been helping each other amid difficult times, the ambassador added.
"These achievements cannot be made without visionary state leaders and contributions made by people in both countries, which should be doubly cherished," he said.