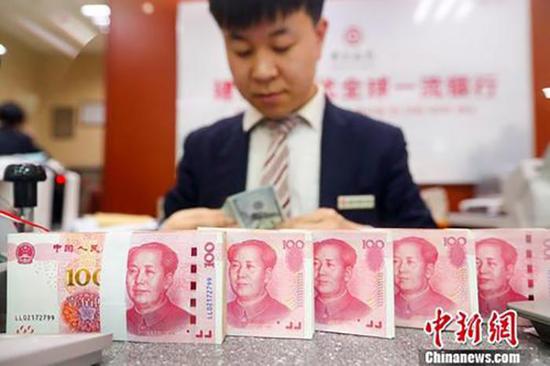 A bank staff member counts money. (Photo/China News Service)
(ECNS) -- The stable economic situation has facilitated rankings promotion of Chinese currency renminbi (RMB) in global payments, an expert said Tuesday.
The RMB, or yuan, became the fourth most active currency for global payments by value in December 2021 with a global share of 2.7 percent, surpassing that of the Japanese yen for the first time since August 2015, according to the Society for Worldwide Interbank Financial Telecommunication (SWIFT) on Thursday.
The RMB making inroads in the rankings shows China's economic situation has recovered steadily against the backdrop of COVID-19 and anti-globalization, according to Tan Yaling, president of China Foreign Investment Research Institute (CFIRI).
China's economic scale exceeded 114 trillion yuan (about $18 trillion) and its foreign trade increased by over 20 percent in 2021. Tan believed well-developed foreign trade has greatly contributed to the rankings promotion of the RMB for global payments.
"Countries along the Belt and Road Initiative (BRI) usually use RMB for settlement, and the great progress made by BRI has expanded the settlement space for the RMB," said Tan.
She added that rankings promotion of the RMB shows China's economic reform and financial opening has been widely recognized, and the reliability and credibility of RMB have been improved.
Meanwhile, RMB appreciation attracts more countries to use the currency for settlement when the currencies of major developed countries see less stability, the expert noted.
But rankings promotion doesn't mean internationalization of the RMB. According to Tan, RMB rankings promotion for global payments happened against the background of the currency's appreciation, which has attracted more countries to use the RMB for settlement.
In Tan's opinion, appreciation of the RMB is not beneficial for China's trade. Along with the rising price of raw materials, sea transportation and labor costs, Chinese foreign trade enterprises are getting less and less profits so they are facing challenges this year.
However, the RMB's status as official reserve currency is constantly being consolidated as the currency plays a more active role in global payments.
The research department of Morgan Stanley has predicted that the trade-weighted index of the RMB may keep the trend of fluctuating appreciation for a long time, and estimated the RMB is expected to become the third largest reserve currency after the U.S. dollar and euro by 2030.