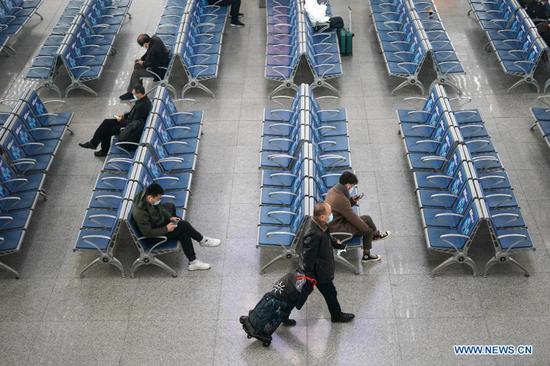 Passengers wait for trains at Nanjing South Railway Station in Nanjing, east China's Jiangsu Province, Jan. 28, 2021. (Photo/Xinhua)
(ECNS) -- A smart railway station project in Nanjing South Station, Jiangsu Province, which started in 2019, has been finished, reducing more than 7,000 tons of carbon emissions in 2021.
Usually, a railway hub like the Nanjing Railway Station consumes twice as much energy including water, electricity and gas as a station of normal scale.
The station began to explore smart remodeling based on daily lighting needs and peak passenger flow in 2019.
It launched an intelligent management platform, which has achieved integrated and smart control over tens of thousands of control devices at the station.
The lighting system of platforms and waiting rooms has adopted a remote monitoring system that can automatically turn on and off, and increase or decrease lighting along platforms and various waiting areas through illumination sensors installed on display screens.
Nanjing South Railway Station also transformed other high-power equipment. Cooling water to support two independent air conditioning systems has been connected after upgrading pipelines. Consumption can be adjusted as needed, which is energy-saving and efficient.
The station has upgraded two steam meters in the east and west heat source rooms before the 2022 Spring Festival travel rush. The intelligent management platform can accurately control the real-time heat output and ensure that the heating system can work on demand to reduce resource waste.
In 2021, the renovation project has upgraded more than 5,000 sets of electromechanical and information equipment, saving 5,087,900 kWh of electricity and 24,700 tons of steam while reducing 7,163.48 tons of carbon emissions, equivalent to 2,755.19 tons of standard coal. It has additionally saved 8,213,700 yuan (about $129.8 million) in energy expenditure.
Nanjing South Station, one of five transportation hubs on the Beijing-Shanghai high-speed railway in China, has a construction area of more than 387,000 square kilometers.