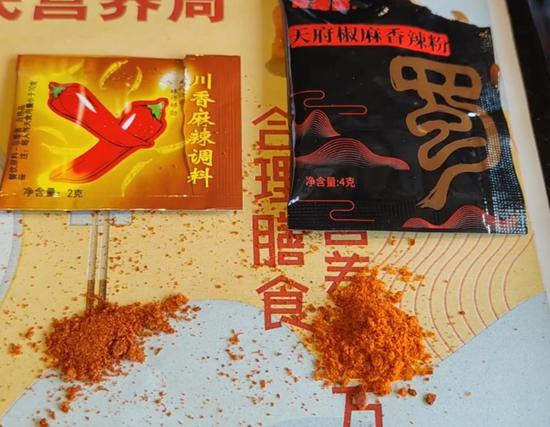 A comparison between Sichuan spicy seasoning and Tianfu chili powder at a KFC restaurant in southwest China's Sichuan Province. KFC restaurants in Sichuan are no longer providing free spicy seasoning. (Photo/Video screenshot from CNSTV)
(ECNS) -- KFC restaurants in southwest China's Sichuan Province are no longer providing free Sichuan spicy seasoning, charging 0.9 yuan (about $0.14) per packet of new Tianfu chili powder, according to a local newspaper report.
The previous free spicy seasoning had been removed from the market since April 26, said a staff member at a KFC restaurant in Chengdu, Sichuan Province on Thursday.
Only KFC restaurants in Sichuan used to offer spicy seasoning.
Compared with the previous one, packaging for the new chili powder, a little sweet and with a strong cumin flavor, has changed from red to black and from 2 grams to 4 grams.
Eat-in customers of the Original Recipe chicken will be provided with a free packet of chili powder.
Customers need to pay for the powder when ordering other products in the restaurant or online.
Local people in Sichuan like spiciness. In response to customer complaints, an employee of a KFC restaurant in Chengdu said it has a new supplier who charges for the materials. The employee also assumed the charge was for the sake of waste prevention.
"There used to be waste. Some customers would ask for as many as five to six packets. We can't refuse them and had to throw away the leftovers," the employee said.
Another KFC restaurant employee in Chengdu said old spicy packets in stock are still available.
A female customer said she would consider whether to continue supporting KFC. "After all, there are so many restaurants and KFC is not the only one selling fried chicken," she added.
But some customers have accepted the change.
A male customer said he is willing to pay for the chili powder.
"Free packets always lead to waste and people will try to save when they are charged," he said.