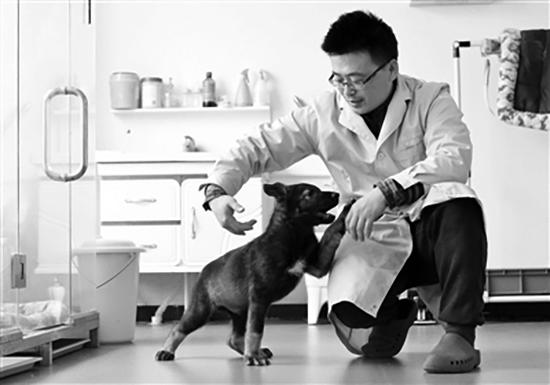 China's first cloned police dog Kunxun and a researcher.(Photo/Science and Technology Daily)
(ECNS) -- China's first cloned police dog, Kunxun, has arrived at a base of the Ministry of Public Security (MPS) in Kunming City, Yunnan Province, for 10 months of training before going into service.
The two-month-old dog was cloned from a female Kunming dog named "Huahuangma", which belongs to a police unit in Pu'er City, Yunnan. At seven years old, Huahuangma is already a first-class super-dog, acknowledged for her contributions in the investigations of dozens of murder cases.
It usually takes about four to five years to train a dog as distinguished as Huahuangma, usually at a cost of up to 500,000 yuan (about $75,000). Therefore, with the support of the MPS, researchers at Yunnan Agricultural University and Beijing-based biotech company Sinogene have cloned the dog, with Huahuangma's skin biopsy sample obtained on Sept. 12 last year.
Researchers then used a beagle, a breed of small hound, as a surrogate mother, with Kunxun born in a surgical operation. The dog weighed 540g and measured 23cm, with all health indicators normal, according to Liu Xiaojuan, who participated in the research.
Further studies have shown Kunxun and Huahuangma share 99.9 percent of their DNA.
At the station, Kunxun will undergo 10 months of training, including search and rescue. Then, it will be handed over to Li Hua, a veteran police officer and trainer of Huahuangma, for further work.
Police dogs in China are mainly imported. Of the seven species, the Kunming dog is the only indigenous species bred in China.
Zhao Jianping, deputy general manager of Sinogene, which has cloned more than 20 pet dogs in the last year, said the company hopes to apply cloning technology in the creation of police dogs to save money and improve quality.