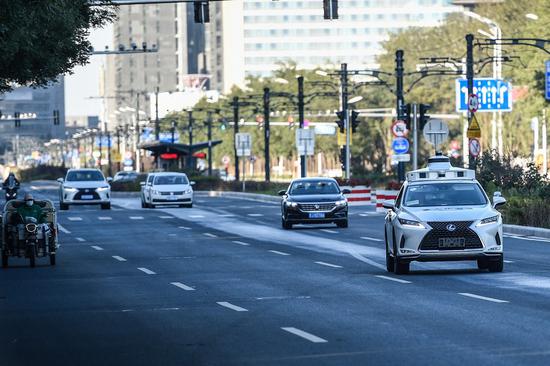 An autonomous vehicle (1st R) is in driverless test on a road in Yizhuang of Beijing, capital of China, Oct. 19, 2021.(Xinhua/Peng Ziyang)
A research team from Tsinghua University has made a breakthrough in autonomous driving, developing a technology that allows vehicles to self-learn while driving to deal with unfamiliar situations, an innovation that could resolve self-driving safety concerns.
The technology enables continuous performance improvements in cars using the data collected during autonomous driving, unlike the conventional method of training cars as much as possible in various driving scenarios in advance, according to the study findings published in the journal Nature Machine Intelligence.
Conventional self-driving technology is based on an algorithm with more data collected through lengthy trainings in possible driving scenarios, whereby the car has a preset response plan in case of emergency. Therefore, the car might not know how to react in unfamiliar situations in which it has not trained, posing a threat to driving safety.
The research team evaluated the newly-proposed technology through both simulations and road tests, with the results showing that cars could learn in new situations and their performance was continuously improved as the driving mileage and data volume increased, said Cao Zhong, a team member from Tsinghua University.
The technology was applied in vehicles at the 2022 Beijing Winter Olympics, said Yang Diange, the team leader, noting that the new technology will be further verified on a large scale on open roads with multiple scenarios.