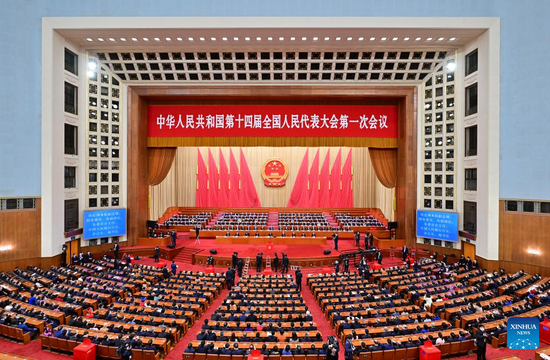 The fifth plenary meeting of the first session of the 14th National People's Congress (NPC) is held at the Great Hall of the People in Beijing, capital of China, March 12, 2023. (Xinhua/Li Xin)
Special: Two Sessions 2023
China's national legislature on Sunday decided on the new lineup of the State Council, or the cabinet, at its ongoing annual session.
Upon nomination by Premier Li Qiang, vice premiers, state councilors, ministers, governor of the central bank, auditor-general, and secretary-general of the State Council were endorsed by lawmakers at the fifth plenary meeting of the first session of the 14th National People's Congress (NPC).
Chinese President Xi Jinping signed a presidential order to appoint these officials.
Lawmakers also approved by voting chairpersons, vice chairpersons and members of eight special committees of the 14th NPC at the meeting.
The vice premiers, state councilors and secretary-general of the State Council pledged allegiance to the Constitution.(Updated)