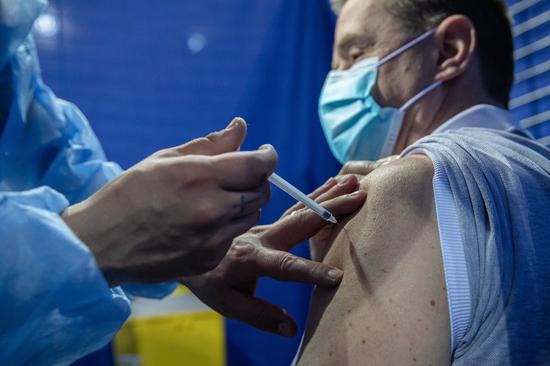 This undated photo shows an expat receives a dose of the COVID-19 vaccine this year in Shanghai, China. (Photo/Xinhua)
Special: Battle Against Novel Coronavirus
Starting on Monday, foreigners in Guangdong province can make an appointment for vaccination against COVID-19 online under the principle of "informed, voluntary and self-assumed risk".
The vaccines for foreigners in the province, will be domestically developed ones, with two doses required, according to a statement released by the Guangdong Provincial Foreign Affairs Office over the weekend.
The foreigners who have joined Guangdong's social medical insurance program will be vaccinated free, while those who have yet to join will be required to pay 100 yuan ($15.38) for each dose, the statement said.
Those who want to be vaccinated can make an appointment in advance via WeChat. They are required to show their passports and other travel documents or residence permits at the vaccination centers before they get the shots.
Guangdong is the most populous region on the mainland. According to the government, it has about 80,000 foreigners living and working there.