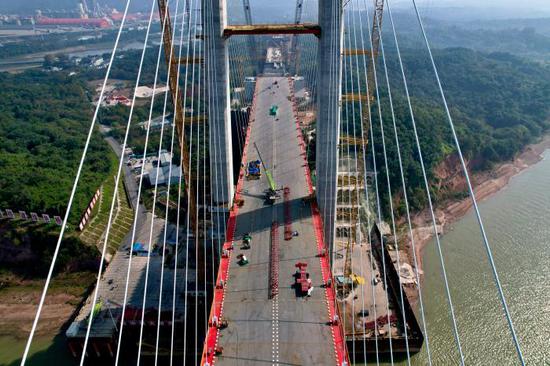 Photo of G3 Tongling Yangtze River Highway-Rail Bridge provided by Liu Weixin
By Jing Yuxin
(ECNS) -- Construction of the G3 Tongling Yangtze River Highway-Rail Bridge, the world's first double-deck cable-stayed suspension bridge, is expected to gain further momentum this year with advanced technological solutions.
Spanning 11.88 kilometers, the G3 Tongling Yangtze River Highway-Rail Bridge in east China's Anhui Province, integrates features of an "expressway, intercity railway, and freight railway."
The combination of cable-stayed and suspension forms effectively minimizes the impact of piers in the river on shipping.
Zhang Chi, deputy secretary of the Party Committee of China Railway Major Bridge Engineering Group Project, said that such a design will be widely adopted due to its advantages of large span, high rigidity, and low cost.
Initially scheduled for completion by December 2025, the bridge is expected to be completed in June of the same year. Zhang attributed the shortened construction period to a collective innovative spirit, emphasizing that even minor technological improvements contribute to an overall reduction in the project duration.
Meanwhile, China insisted on maintaining biodiversity during the construction process.
Dubbed the "smiling angel," the Yangtze finless porpoises are under second-class state protection in China. To protect them from construction noise, the construction site has deployed low-frequency, low-noise equipment. Additionally, hundreds of cameras were installed within the designated area to monitor their activities.
The camera surveillance also serves another purpose: if a Yangtze finless porpoise is found ill, the construction site will contact local animal protection organizations for treatment.
With a designed speed of 250 km/h for the railway bridge and 100 km/h for the road bridge, the G3 Tongling Yangtze River Highway-Rail Bridge will significantly enhance the regional investment environment and promote interconnected transportation between Hefei and Tongling in East China's Anhui province.